4 Ways 'Arrow' Won Back Its Fandom in Season 5
New characters and a satisfying mystery have put the Emerald Archer back on top.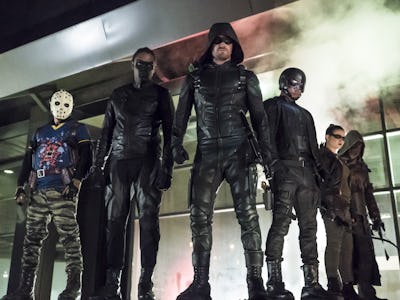 The CW
Reading through discussions on the Reddit community for The CW series Arrow is a different experience than it was a year ago. In the spring of 2016, the live-action Green Arrow show was put on blast by once die-hard for its confusing plotlines, weird pacing, and characters who behaved like puppets enacting bad fan fiction. Fans' abysmal attitudes were epitomized when the subreddit morphed into a forum for Marvel's Daredevil. Now, halfway through the show's fifth season, its fans are once again elated; the latest twist regarding the evil Prometheus was as well-received as other new elements introduced this year — it's working again.
Though Arrow isn't exactly Emmy-worthy, it has become one of the most exciting hours of superhero TV. Whereas Seasons 1 and 2 currently boast 86% and 92% on Rotten Tomatoes, Season 4 dipped all the way down to 45%. Season 5, so far, has earned 73%. Here are four reasons how and why Arrow got its groove back.
4. Back to the Streets
In Season 4, Arrow introduced Damien Darhk, played by Neal McDonough, who chewed up every second of screentime he got. McDonough was great, but it was Darhk himself — a logical escalation of Season 3's Ra's al Ghul with Darth Vader-esque superpowers — that scrubbed Arrow of its unique, original identity as a gritty superhero drama.
So Arrow got weird, confusing, and unfortunately, pretty boring. The show's producers noticed how fans responded and overhauled the show in Season 5 with the introduction of a magic-less Prometheus.
"[He's] not going to have magic, no powers," producer Wendy Mericle told IGN last summer. "The show was always meant to be a gritty crime drama at its heart." Season 5, which has been engineered as a sort of closing chapter that began in Season 1, inspired the Arrow writer's room to return to what made the show special in the first place. "[W]e did want to go back to our roots and figure out what is specific to this show. What is our universe? Go back to, 'What is Arrow?'"
3. Adrian Chase and Prometheus
The DC TV shows are obsessed with withheld identities of its villains — it's been the playbook for practically every season of The Flash. But Arrow went after the tried-and-true strategy for the first time this year, and it's worked out in spades. Mysteries like these can propel a show forward with a central question that fans want answers to but accept that it must be earned with time, patience, and complete attention. Arrow has captivated its audience all season long, paying off in the recent episode "Fighting Fire with Fire" by pulling a fast one that surely no one saw coming.
In the comics, Adrian Chase is Vigilante, who has also been a major player in Arrow this season. But by unveiling Adrian as Prometheus, there are now more questions than answers that fans will undoubtedly remain tuned in for.
2. Wild Dog, Dinah Drake, and the rest of Team Arrow
The unceremonious dissolving of the key players that make up the (not officially named) "Arrow Family" threatened Arrow to drift away from its unique comic book identity. Without Arsenal/Red Arrow and Black Canary, Arrow became a show where it looked like Oliver Queen used an archery bow by accident. (It had Thea Queen as Speedy, sure, but she too was caught up in the show's pitfalls and was a minor background player for a while.)
Introducing a whole class of new kids for Oliver to take under his wing — and at the same time, grow as a character — was arguably the best thing Arrow has done in recent years. No more are the Team Arrow dynamics restricted solely to Oliver and Diggle responding to Felicity's quirks (who, it must be said, has shed whatever rough edges she had last season). With new characters like Curtis Holt as Mr. Terrific, Dinah Drake as the new Black Canary, and Rene Ramirez as Wild Dog — the best of the bunch — there's more life inside the Arrow Cave than there has ever been.
1. Effortless pacing.
The aforementioned elements of Arrow all sum up into the final reason why the show is undeniably on fire at the moment: It knows its own pace.
By introducing new characters and allowing audiences to get to know them, all while teasing a compelling mystery within an old world that feels new again, Arrow has found the winning formula to be the great, tough-as-grit superhero show it always seemed destined to be. Arrow isn't perfect — no TV show can be — but with a robust cast of characters caught up in an intriguing plot has ensured Arrow just may close out its five years with a bullseye.
Arrow airs Wednesdays on The CW.