'Rick and Morty' and Childish Gambino Mash-ups Get Real Schwifty
"Get Schwifty" mixed with "Redbone" is the stuff that dreams are made of.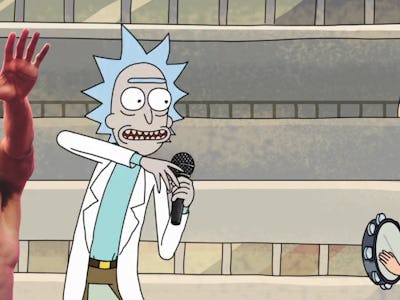 If you've ever wished that Childish Gambino would drop a mixtape with Rick and Morty, then you're in luck, because that's exactly what you (sort of) get with some deftly created mash-ups that get pretty damn schwifty. And they're just in time, considering Donald Glover will soon retire the Childish Gambino persona.
Glover told the crowd at the Governors Ball music festival on June 3, "I'll see you for the last Gambino album," meaning that he's retiring from music after making one more album under the moniker. It makes sense, considering Donald Glover's acting and writing career is popping off with hits like Atlanta getting a second season, an upcoming animated Deadpool series he's in charge of, and his co-starring role as Lando Calrissian in the Star Wars Han Solo standalone film.
At Governors Ball, Glover also referenced the beloved "What 'Redbone' would sound like if…" meme, saying his hit single "Redbone" was "the perfect song to make out to." As it turns out, it's also the perfect song to mash-up with Rick and Morty's "Get Schwifty."
"Redbone" may be the second single off Childish Gambino's December 2016 hit album "Awaken, My Love!", but Rick and Morty's "Get Schwifty" saved the entire planet in a Season 2 episode in which a Cromulon demanded that Earth, "Show me what you got!"
Here's what Rick, Morty, and Childish Gambino got:
And here's a version of "Redbone" that the simpleton Jerry Smith from Rick and Morty might enjoy as "human music":
If "Redbone" is a little too sensual of a mash-up for you, there's also the opportunity to get schwifty with a music video-style montage of Rick and Morty scenes set to "Bonfire," which is about as unsettling as it is spot on.
We like what they got, and the Cromulons would agree.
Though it's doubtful that Childish Gambino's final album would have anything to do with Rick and Morty and "Get Schwifty," we can dream, can't we?