The 'Pokémon Go' AR Lawsuit in Milwaukee is Getting Nastier
The future of augmented reality hangs in the balance.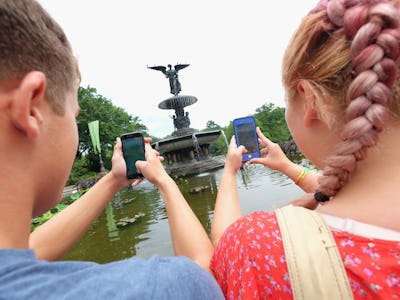 Getty Images / Michael Loccisano
A year after its release, the Pokémon Go craze has largely subsided. But the next-generation battle over digital First Amendment rights that it (inadvertently) started doesn't look like it will end any time soon.
In February, Milwaukee County issued unprecedented regulation of all augmented reality games after eager gamers trampled through the metro area's pristine Lake Park last summer. The ordinance, passed by the county's Board of Supervisors, created a permitting system that would limit AR gameplay in taxpayer-funded parks, a move that outraged tech advocates and led to a lawsuit by the mobile game developer Candy Lab, which makes the AR game Texas Rope 'Em. Candy Lab sued and called for a preliminary injunction against the ordinance in April. That set up a major court case that could help determine the fate of an industry projected to generate $100 billion in just a few years.
In late May, lawyers for Milwaukee County shot back. In a filing to the U.S. District Court for the Eastern District of Wisconsin, the county called for the motion's dismissal and suggested that Candy Lab had no grounds to sue — even under the standard set by Brown v. Entertainment Merchants Ass'n, a 2011 decision that held that video games were protected under the First Amendment.
"Texas Rope 'Em is not entitled to First Amendment protection because it does not convey any messages or ideas," lawyers for Milwaukee County asserted in a motion to dismiss, filed on May 31. "Unlike books, movies, music, plays and video games – mediums of expression that typically enjoy First Amendment protection – Texas Rope 'Em has no plot, no storylines, no characters and no dialogue. All it conveys is a random display of cards and a map. Absent the communicative features that invoke the First Amendment, Candy Lab has no First Amendment claim."
In a reply filed Wednesday, Brian Wassom, the lawyer representing Candy Lab, vehemently disagreed with what it considered misguided, disparaging remarks about Texas Rope 'Em. Further, he suggested that it wouldn't matter, even if Milwaukee's characterization was on point.
"The County's argument simply doesn't matter under the Supreme Court's First Amendment case law," Wassom writes in a motion filed in support of the preliminary injunction. "Everything the County says about Texas Rope 'Em could be true, and Candy Lab AR would still have standing to challenge the Ordinance's glaring unconstitutionality. The County's response gives virtually no substantive argument, because there is no justification for a municipality regulating speech in the hopes of preventing unwanted citizen behavior."
The county also suggested that because the app emulates the poker game Texas Hold 'Em, it makes the app a form of gambling. Though it doesn't take place in a casino or with a bookie, the county claims it is technically a lottery, which it says is defined by three factors: being a game of chance, containing consideration, and awarding a prize. Wassom again objected, noting the plethora of other free poker apps that are not regulated, and the fact that prizes are not redeemable for actual money.
In another filing, on behalf of Candy Lab CEO Andrew Couch, it's noted that the company had yet to make any money on Texas Rope 'Em.
The filing further suggested that the regulation prescribed by the county was not content-neutral, as required by law. That makes it a case of prior restraint, which violates the company's rights. "It is content-based because it enables and requires law enforcement to determine whether a particular application constitutes a 'game,' and then prescribes different treatment depending on the answer," Wassom insists.
Candy Lab also provided a bigger picture view of the growing augmented reality sector, which has seen several significant developments since the ordinance was first filed. The ordinance, the company suggests, has much larger ramifications, and could impact users far beyond the limited number of people who have heard of, let alone played, Texas Rope 'Em.
"In just the two months since Candy Lab AR prepared this lawsuit, three of the most popular digital service providers in the country — Snapchat, Facebook, and Apple — have each launched their own tools that allow any individual to create such content," Couch's filing notes.
That brief highlights Snapchat's "World Lenses," which augments images of environments; Facebook's vow to become a hub for AR developers; and Apple's new push to become the largest AR platform in the world, made just earlier this month.
The flow of filings is not yet done, either; Wassom tells Inverse they have until next week to respond to Milwaukee County's motion to dismiss their lawsuit, and the court has them on track for trial in spring 2018. It doesn't take a special lens to see that the fight is far from over.