Mark Zuckerberg Just Laid Out the Next 10 Years for Facebook
The focuses are improving connectivity, artificial intelligence, and VR and A.R.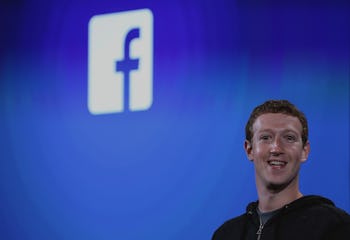 Getty Images / Justin Sullivan
Facebook held its quarterly earnings call on Wednesday and, yep, Facebook is absurdly wealthy (its revenue was $7.01 billion). But CEO and founder Mark Zuckerberg wasn't just focused on the money — he was looking to the future.
Zuckerberg laid out his plan for the next 10 years of Facebook by laying out the tech giant's three main areas of focus in the coming decade. Those areas are, according to Zuck, "connectivity initiatives that bring more people online, artificial intelligence, and virtual reality and augmented reality."
"Through our efforts with internet.org, we've connected 40 million people based on our best estimate," Zuckerberg said. "And we're making good progress with our Express WiFi program, which empowers entrepreneurs to build a business by providing their community with access to the Internet."
Facebook has already put a significant amount of effort into bringing reliable internet to remote or neglected areas. Sure, it's a little self-serving (can't use Facebook unless you've got a good internet connection), but since access to the web is a human right at this point, it's a noble cause. Some of the other ways Facebook has already tried to improve internet connectivity are with the company's Aquilla solar-powered drone and a satellite that can beam broadband internet down to Earth, although SpaceX accidently blew that one up.
Zuckerberg said that a quarter of the teams Facebook are currently using A.I. in their work. "We've made improvements to our AI in order to filter out misleading clickbait stories, newsfeeds," he said, which seems a little questionable given the site's epidemic of fake trending news, but hopefully that'll change by 2026.
"And we're using AI to help find terrorist propaganda on Facebook," he continued. "It's still early, but we think that AI will help improve the quality of what people see and can share on our platform."
Zuckerberg finished his opening remarks by highlighting Occulus's work and stating once again that Facebook is "investing another $250 million in virtual reality content on top of the money that [they've] already invested."