SpaceX's Brutal Schedule Could Have Repercussions for Elon Musk
There's only so much time.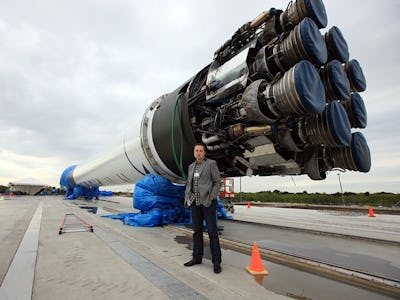 SpaceX
Elon Musk's SpaceX is right at the beginning of an absolutely stacked summer, launching eight missions over four months, and beginning to set the breakneck pace that the company hopes to continue from here on out. But with speed may come tradeoffs, and a group of investment analysts warn that SpaceX's triumphs may cause a time-management dilemma for Musk, who currently splits his time between blasting rockets and building cars as the head of Tesla, Inc.
In a letter to clients on Monday, Morgan Stanley analyst Adam Jonas took a quick look at the future of SpaceX as it relates to Musk's other company, Tesla. While Musk currently splits his time relatively evenly between the two companies, Jonas cautioned that as SpaceX ramps up its launch schedule, it could cut into Musk's focus at Tesla.
"As SpaceX's business continues to ramp, we believe its interests may expand into new markets and begin to potentially place even further demands on the time and resources of Tesla Inc, particularly those of its Chairman, CEO and Chief Architect Elon Musk," Jonas wrote.
Still, Jonas noted that at the moment it's business as usual. "We are not able to say with certainty how such developments could manifest into any potential change of thinking at the senior management or Board level of Tesla at this time," he wrote. While Musk is notorious for working an intense schedule, his past comments suggest that if there eventually is a conflict, he won't neglect Tesla. In a conversation with TED curator Chirs Anderson in April, Musk said that he doesn't see himself leaving Tesla any time soon.
"I intend to stay with Tesla as far into the future as I can imagine and … [there are] a lot of exciting things that we have coming," he said, before mentioning the upcoming Tesla Model 3 debut and the Tesla Semi truck reveal.
Also, SpaceX President and Chief Operating Officer, Gwynne Shotwell is a far more visible face in the day-to-day running of the company than any of her counterparts at Tesla. While Musk regularly jumps in to promote the company on social media and supervise important projects, he appears to be a bit more active in his role as CEO of Tesla than SpaceX. Quartz reported that Musk usually spends Mondays and Fridays at SpaceX, but tends to spend the middle of the week and "a little more time" at Tesla (he says it's more of a "drama magnet"). Still, after 15 years of SpaceX and 13 years of Tesla, Musk still has the energy for side-hustles like the Boring Company, so it's unlikley that he'll burn out soon.
Jonas's letters are often far-reaching speculation — Musk's tradeoff in time between SpaceX and Tesla is always something investors are concerned with, but the double-CEO hasn't said anything will change anytime soon. Still, as SpaceX's crazy launch schedule heats up, anything could happen.