See the Other OG Power Rangers Cameo From the New Movie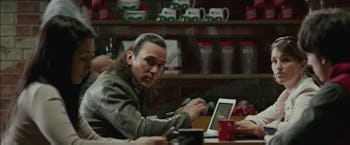 YouTube.com/Lionsgate Unlocked
Earlier this year, the '90s returned in full force when Saban's Power Rangers hit theaters and exploded with nostalgia for Megazords and teenagers with attitude. But, the film had an extra special treat for fans of the original Mighty Morphin Power Rangers, as Jason David Frank and Amy Jo Johnson — who played the original Green and Pink Rangers, respectively — made a cameo towards the end of the film. Now, to commemorate the Blu-ray release of the film, Lionsgate released another cameo with Frank and Johnson that was left in the editing room.
During the training montage, which was set to "HandClap" by Fitz and the Tantrums, Amy Jo Johnson (wearing light pink) and Jason David Frank (wearing green) appear in the Krispy Kreme where Kimberly (Naomi Scott) and Trini (Becky G) do some fork-fu over a piece of doughnut. As Kim and Trini goof off with their new skills, the two OG Power Rangers look on in disgust: Come on, guys. Stop playing with your food.
What's extra fun about this cameo (which doesn't appear to be shot in front of a green screen, unlike the cameo that was made the movie) is that Jason Frank has his long ponytail haircut that he had during his time in the series. (In the official cameo, Frank has his real short hair.) Although it's been close to 25 years, neither Frank nor Johnson look like they've aged a day since they last morphed.
On his official Facebook page, Frank shared the clip revealing that they shot the second cameo after filming this one. "We shot two cameos for the @powerrangersmovie," Frank wrote. "Unfortunately, this one was cut to make a better one, but at least I have long hair in this deleted scene."
See the cameo of the two OG Power Rangers below.
Saban's Power Rangers hits Blu-ray on June 13.