'Crackdown 3' Now Has Terry Crews, Y'all
And he's cracking down on crime.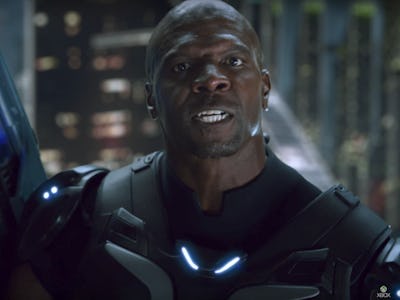 YouTube.com/Xbox
He may not be Doomfist in Overwatch just yet, but on Sunday afternoon, Terry Crews revealed he's joined Crackdown 3 as the voice of Commander Jaxon.
During Sunday's Microsoft conference at E3 2017 — which also unveiled its next console the Xbox One X — a new trailer for the long-delayed Crackdown 3 featured actor Terry Crews (Brooklyn Nine-Nine) as well as an announced release date of November 7, 2017.
Aside from Crews and a release date, not a whole lot was unveiled about Reagent Games's Crackdown 3 at this year's E3. The game has made appearances at the last few E3 shows, which showed off destructible environments across a sprawling sandbox universe.
Crackdown 3 will be the third in the Xbox-exclusive Crackdown series, which first appeared on the Xbox 360 in 2007.
A lawful good riff on the action sandbox made familiar by Rockstar's Grand Theft Auto games, Crackdown allows players to become superpowered cops in a crime-ridden city. After making its official debut at E3 in 2014, Crackdown 3 has been notoriously delayed, though not as long or as severe as other titles like 2011's Duke Nukem Forever. It's unknown when Crews (an avid gamer himself) joined the production of Crackdown 3, but the actor made his presence known at this year's 2017.
See the new trailer for Crackdown 3 below:
Crackdown 3 arrives November 7, 2017.