Microsoft Announces Its Newest Console, the Xbox One X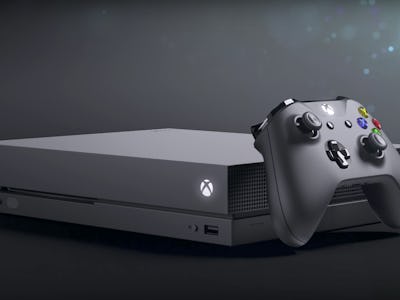 YouTube.com/Xbox
The next step in Microsoft's Xbox console lineup has just been announced. During Xbox's E3 2017 press briefing on Sunday in Los Angeles, Microsoft executive Phil Spencer revealed the official name for Microsoft's next Xbox, which has long been under the rumored title of "Project Scorpio." The new machine will be called the Xbox One X, and is set to run games at a true 4K resolution while being compatible with all of your current Xbox One accessories.
There's a lot of technical mumbo jumbo under the hood of the Xbox One X, but in short, Microsoft is touting the new console — and yes, it's a new console — as the most powerful in the industry. But even with all that power, Microsoft is selling the console as the physically smallest Xbox console ever. Shortly after that announcement, Xbox revealed the exclusive world premiere of Forza Motorsport 7. Porsche also sponsored some time during the presentation, as Microsoft unveiled the 2018 Porsche 9/11 GT2, which will be predominantly featured in the new Forza Motorsport.
There is not yet an announced price point for the Xbox One X, but the presentation at E3 2017 is still underway. A rumored price is said to be in the neighborhood of $499.99.
See the reveal trailer for the Xbox One X below.