Ubisoft Unveils 'Assassin's Creed: Origins' Set in Egypt
Here's what is in the next chapter.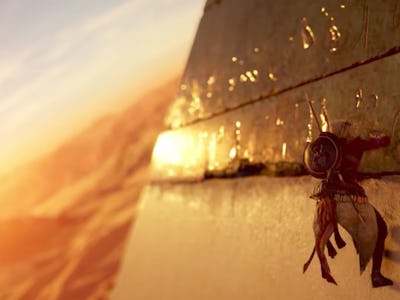 YouTube.com/Ubisoft US
The next entry in Ubisoft's Assassin's Creed series is here, and it's called Assassin's Creed: Origins. Pushing back further in time than any previous entry in the series, Assassin's Creed: Origins is set in ancient Egypt and stars a new hero named Baek. The game was presented by Jean Guesdon of Ubisoft, with its trailer made up entirely of in-game 4K footage.
During Microsoft's E3 2017 press conference, which also held the debut of the Xbox One X, Ubisoft presented gameplay footage of Assassin's Creed: Origins in a short demo. New mechanics included control over an eagle named Senu to target enemies (which appears lifted from Far Cry Primal as a replacement for the infamous viewpoints), an RPG-like loot system, and the introduction of slow-motion stealth kills. The game also features a few new dimensions to combat, such as shields and the remote targeting of arrows to shake things up.
Assassin's Creed: Origins is the return of Ubisoft's immensely popular stealth-action franchise following a two year break after the release of 2015's Assassin's Creed Syndicate, which was set in Victorian London at the end of the Industrial Revolution. In 2016, the film Assassin's Creed, starring Michael Fassbender, debuted in theaters, albeit to abysmal reviews.
Regardless, it looks like some extra development time has allowed the development team behind Assassin's Creed to reinvigorate the game's repetitive formula, while keeping the series similar in theme to its predecessors.
While no official release date was named for Assassin's Creed: Origins, the game is expected to arrive sometime "before March 2018." See the trailer below.