This Guy Wants to be the America's Science President
California Governor Jerry Brown really needs you to think he's America's science president.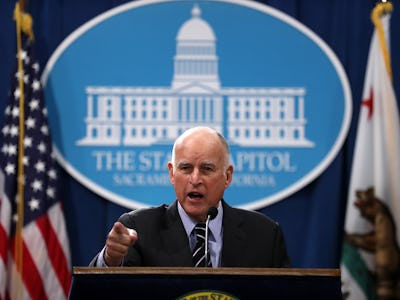 Getty Images / Justin Sullivan
Don't call him Governor Moonbeam. Call him the Science President of the United States, goddammit. California's Jerry Brown, chief executive of the most populous and prosperous state in the union, took on the first appellation (which he's said he finds a bit frustrating) during his first stint in Sacramento between 1975 and 1983. But then, as now, he seems to be angling for something closer to sci-POTUS.
Brown is a well-liked Democratic governor of a deep-blue state who, despite being 79 years old, still flirts with making a fourth run for president in 2020. And like several similar governors he's spent 2016 and 2017 balancing the day-to-day tasks of local politics with dramatic public displays of opposition to President Donald Trump. But for Brown those displays have included a specific, performative interest in issues of science — and often included positioning himself as a kind of alternative leader for American research ambitions.
This isn't a new posture for Brown. Way back in the 20th century, he floated the idea of a Californian communications satellite, launched independent of the federal government.
Then, in 2016, he seemed to return to the idea. When, in December, a Trump advisor suggested the incoming administration might cut off funding for NASA's Earth science program, researchers worried about losing funding and critical data for their work. Within a week, Brown made a fiery proclamation during a speech for the American Geophysical Union:
"If Trump turns off the satellites, California will launch its own damn satellite."
Twenty-five weeks later, Trump has not turned off the satellites, and California hasn't made any obvious moves toward preparing an alternative fleet. But Brown earned a cheer from the crowd and a flash of bemused coverage in the press.
More recently, since the president announced his intention to withdraw the United States from the Paris Climate Accord, reneging on American international commitments, and capping a serious of efforts that could pump up American greenhouse gas production, whatever the consequences.
Brown, together with Governors Jay Inslee of Washington and Andrew Cuomo of New York (also possible Democratic 2020 candidates for the White House), launched the U.S. Climate Alliance, a coalition of states publicly committing to abiding by the standards of the Paris Agreement. Nine more states have since joined.
The governor's taken things a step further though, flying to China to conduct a highly public green foreign policy on behalf of his state.
The trip had practical value for China and California alike. Brown signed green energy agreements with the Chinese cities of Changdu and Nanjing, and reached out to Chinese businesses to build clean technology partnerships across the Pacific.
But Brown also took advantage of the opportunity to position himself as a climate change anti-Trump on the world stage. After getting himself photographed meeting with Chinese President Xi Jinping, he said of climate policy to an international gathering of energy ministers that, "We're talking about turning around the whole of modernity."
Brown leads a state where four in five adults say climate change is a "serious threat" to their state's future, with enough economic power to go up against the federal government and impose stricter auto fuel standards on the whole country, and independent enough that a secession movement got taken at least kind of seriously in the national press. So Brown positioning himself as a kind of alternative POTUS for science policy isn't the most bonkers political stance in the world. If it wins him negative press on Breitbart, even better, as far as his core voters are concerned.
It's worth noting though a big area of science-tinged policy where Brown shies from the most progressive possible stand.
On June 1, California's state senate passed a universal single-payer health care law that would cover every single resident in the state and end private insurance. Endorsed by the California Nurses Association and other left-leaning scientific and medical groups, it would move the state into the company of nations that have dismantled systems of buying and selling medical care.
Still, Brown's taken a skeptical stance on the bill, which has yet to pass the state assembly and get his signature — along with the federal government's agreement to redirect federal funds from Medicare, Medicaid, and the Affordable Care Act (erm, "Obamacare") into the program. Brown's pointed to the added cost to California taxpayers; estimates suggest the bill would cost $400 billion — or about 9 percent ($33 billion) more than the feds, states, and individuals currently spend on healthcare for Californians.
Progressive activists argue single-payer would bring down costs overall for the state by changing the incentives for providers that exist under the current for-profit insurance system. Still, the would-be progressive alternative science POTUS said of paying for single payer, "I don't even get it. How do you do that?"