Trump Memo Shows He'll Scrap the Most Important Deal in the World
The President will pull the US out of the Paris Agreement, and 194 countries will move on (or not) without the American involvement.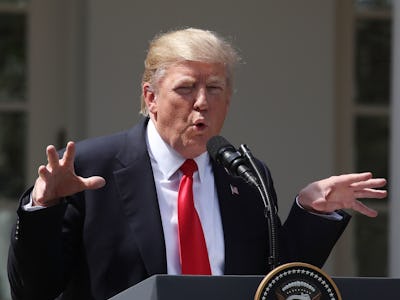 Getty Images / Mark Wilson
The White House announced Thursday that President Donald trump will pull the United States out of the Paris Agreement, an international accord of 195 countries to reduce carbon emissions over the next several decades.
"The Paris Accord is a BAD deal for Americans, and the President's action today is keeping his campaign promise to put American workers first," reads a White House memo obtained by The Washington Post. "The Accord was negotiated poorly by the Obama Administration and signed out of desperation."
The US will join only Nicaragua — which objected to Paris as insufficiently drastic — and Syria — which is in the midst of a civil war — on the list of United Nations member states not participating in the agreement. The US won't officially put in the paperwork to exit the agreement until November 2019, the first off ramp built into the deal.
Trump was highly critical of the agreement on the campaign trail, and suggested that climate change was a "hoax" perpetrated "by and for the Chinese."
In recent weeks he'd been cagier and winking on the subject. Axios reported that the White House was working on an exit from the Paris Agreement, but when asked for his stance on climate change, Trump said he was "hearing from a lot of people both ways."
He appeared to attempt to stir further interest and speculation in his eventual decision on Twitter.
America is the world's largest emitter of greenhouse gases over long time scales, accounting for just under a third of all emissions in human history. In recent years, the US has been second only to China in annual emissions. And the world's largest economy is also second — to Qatar — in total emissions per individual.
The immediate impacts of the US leaving the agreement are few. Trump has already abandoned many of the climate initiatives of the Obama era, most notably the Clean Power Plan, which would have enabled the US to meet its 2025 emissions reduction targets. The United States will also stop payments into a fund designed to help poorer countries reduce their emissions.
At this point, the most significant question is how the rest of the world will react to the American exit from a globally agreed-upon program to minimize damage to the planet. It's certainly plausible that other nations will follow America's lead out of Paris. But some observers have suggested that the American exit under a globally disliked president will in fact strengthen global resolve to forge ahead with emissions reductions.
You can watch Trump's announcement below.