What's the "Green Climate Fund" in Trump's Paris Agreement Speech?
Something to which we're no longer contributing money.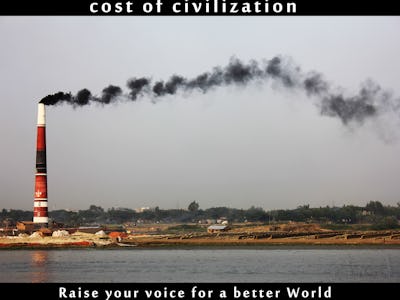 Flickr / A. K. Azad
When President Donald Trump withdrew the United States from the Paris Climate Agreement on Thursday, he lambasted the treaty and targeted its Green Climate Fund commitments with particular ire.
Trump said that leaving the agreement will end the U.S.'s contribution to "the so-called 'Green Climate Fund.'"
What is this fund, and why doesn't Trump like it?
The Green Climate Fund (GFC) was created in 2010 under the 1992 United Nations Framework Convention on Climate Change treaty, which was ratified by 197 countries, including the United States. It mobilizes money to fund projects to fight climate change in developing countries, particularly in nations that are hit hardest by the effects of global warming: "Least Developed Countries (LDCs), Small Island Developing States (SIDS), and African States."
So basically, it serves two purposes: First, helping those who are most vulnerable to climate change mitigate its effects, and second, helping countries that lack the funds and resources to effectively combat climate change build up the means to do so. Needless to say, it's important.
President Trump, though, described it as a "scheme to redistribute wealth out of the United States."
Under the Paris Agreement, the U.S. pledged to contribute three billion dollars to the fund; it made an initial 500 million dollar donation in March 2016 and later doubled that. Trump stated that the fund "is costing the United States a vast fortune," especially on top of preexisting foreign aid payments, and that it is unfair that the U.S. should pay so much when other nations pay little or nothing.
"We're going to be paying billions and billions and billions of dollars, and we're already way ahead of anybody else, many of the other countries haven't spent anything," he said.
"Nobody even knows where the money's going to," he added. "Nobody's been able to say, 'Where is it going to?' Of course, the world's top polluters have no affirmative obligations under the Green Fund. Which we terminate."
In addition to the United States, 42 countries have pledged to the GCF; nine of these are developing countries, including Vietnam, Mexico, and Indonesia. The fund also solicits investments from the private sector.
The fund has raised over ten billion dollars so far. One study suggests that 12 trillion dollars is needed to keep the global average temperature spike below two degrees Celsius, which is the goal stated in the Paris Agreement.
Abandoning our Green Climate Fund pledge isn't the only repercussion of withdrawing from the Paris Agreement. Check out some other effects here.