Bill Nye Predicts Republicans Will Finally Accept Climate Change
They can't stay quiet after Paris.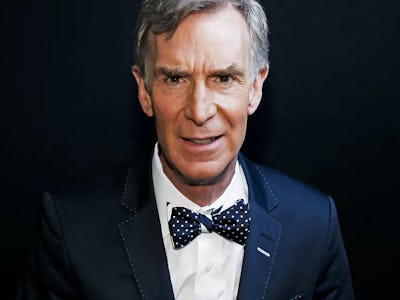 Getty Images / Bennett Raglin
Bill Nye believes some good will come from President Donald Trump's choice to withdraw the United States from the Paris climate accord.
"I think that a big thing that has happened from this decision to step out of the Paris Agreement [is] that itself has raised awareness about climate change," Nye told Inverse at BookCon 2017, an annual book fan convention held in New York City. "I think we will see that the conservatives in the Senate and the House of Representatives are now willing to come out, because the president is so out of touch. People have been saying that there's a small group of Republicans in Congress who want to come out about climate change. I think they will now."
The president's decision on Thursday to leave the global agreement holding countries accountable for reducing greenhouse gas emissions and limiting the global temperature rise to less than two degrees Celsius was met with dismay by those who argue that it ignores decades of scientific research and could accelerate environmental devastation. If Republicans who believe in climate change, but have stayed relatively silent on the issue are now galvanized to speak out like Nye predicts, then Trump's decision may at least have a silver lining.
Nye, who was at BookCon to discuss his new young adult fiction series Jack and the Geniuses, is an invested defender of climate change research and counts the spread and rise of renewable energy as one of the things that he "wants for everyone in the world." His prediction also echoes the prognosis of Michael Liebreich, founder of the clean energy consultancy New Energy Finance, who tweeted on Friday that some good may come from Trump's decision.
"Domestically, this should mark the point where sensible Republicans finally start rowing back to the scientific and social mainstream," Liebreich forecasted on Twitter. "This will spur a tidal wave of climate action by U.S. states, cities, businesses, and citizens."
This prediction is already coming true: Beginning Friday, cities and businesses across the United States announced the decision to endorse and agree to follow the rules set by the Paris accord.
For Americans who are unhappy with the direction that United States government is heading with climate change, Nye also has some advice: vote.
"It's also important to remind everybody that there's a lot of Congressional elections in 2018," says Nye. "If you want to do something, vote. The elections will be here before you know it."