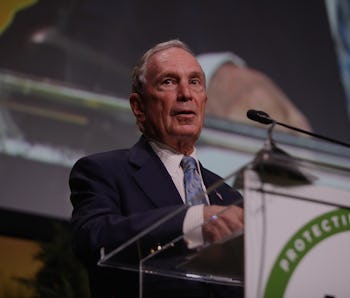 Culture
A Powerful Group of Americans Just Committed to Meeting the Paris Climate Agreement
Getty Images / Kelly Sullivan
President Donald Trump pulled the United States out of the Paris Climate Agreement on Thursday, but a coalition of local governments, businesses, and university leaders is determined to find its way back in.
Group members are committing the organizations they represent — so far, three states, 30 cities, 82 universities, and over 100 businesses — to fulfilling the obligations to which the United States agreed under the treaty: reducing greenhouse gases emissions by 26 percent within 30 years (2005 to 2025). 12 years in, the U.S. is halfway to that goal.
Former New York City mayor Michael Bloomberg is leading the effort; he is convinced that the U.S. can still reach the goal without the help of the federal government. The New York Times obtained a draft of the letter he's sending to the United Nations:
"While the executive branch of the U.S. government speaks on behalf of our nation in matters of foreign affairs, it does not determine many aspects of whether and how the United States takes action on climate change. The bulk of the decisions which drive U.S. climate action in the aggregate are made by cities, states, businesses, and civil society. Collectively, these actors remain committed to the Paris accord."
But the coalition isn't just trying to abide by the standards in Paris Accord: It wants to rejoin the treaty.
The agreement has so far only been ratified by national governments. A UN official told the Times that there isn't a formal mechanism in place for other entities to participate, but this coalition hopes to change that and is currently negotiating with the UN. Perhaps an exception will be made, seeing as how the entire world is part of the Paris Accord except for Syria, Nicaragua, and now the U.S.
The federal government does wield power and influence over greenhouse gas emissions in many important ways, including regulating gas mileage standards. But non-national actors can do a lot, too, like choosing to use renewable energy to power their infrastructure projects and other investments.
The group so far includes the mayors of cities like Pittsburgh, Salt Lake City, Atlanta, and Los Angeles; universities like Wesleyan, Emory, and Brandeis; and companies like Mars and Hewlett-Packard.
Washington state is a member, too, and its governor seems undiscouraged by Trump's decision, telling the Times, "Our states will move forward, even if the president wants to go backward."