First 'Murder on the Orient Express' Trailer Is a Sleek Whodunnit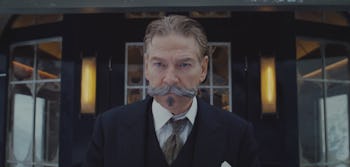 20th Century Fox
You'd be forgiven, maybe, for fearing that a book from the '30s about a bunch of rich people on a train might be a little dated or boring, but then you remember that Murder on the Orient Express is about, well, a frickin' murder. Agatha Christie's best-selling novel is a classic for a reason, and the upcoming movie adaptation looks like it's giving the source material a (mostly) stylish update.
The film, which was directed by Kenneth Branagh (who also plays the brilliant detective Hercule Poirot), stars Penélope Cruz, Willem Dafoe, Judi Dench, Michelle Pfeiffer, Daisy Ridley, Josh Gad, Leslie Odom Jr., and, sigh, Johnny Depp. It tells the story of a bunch of passengers riding the titular Orient Express, a sleeper train barreling through remote, snowy tracks in Europe. When somebody is killed, everybody is a suspect, and there's no way to escape.
Everything in the trailer looks great, if you can stomach Johnny Depp. Beyond that, the only possible knock against the film is the use of an Imagine Dragons song at the very end, which maybe isn't as successful a modernization as the filmmakers might've hoped.
We'll learn who committed the Murder on the Orient Express when it hits theaters on November 10.