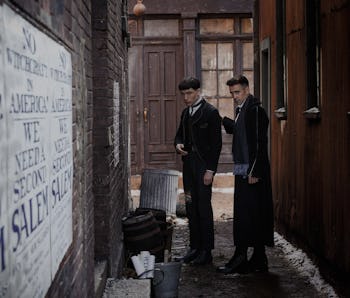 Entertainment
Twitter Freaked Out Over the Surprise Cameo in 'Fantastic Beasts'
'Potter' fans took to Twitter to show their love and disdain for the creative casting. Spoilers ahead.
Business Insider
J.K. Rowling's Fantastic Beasts and Where to Find Them ended its opening weekend with $75 million at the box office. That's nothing to shake a wand at. Though that's surprisingly the lowest opening weekend for any movie ever in the Harry Potter universe, the internet is still obsessed with all things Fantastic Beasts. Much like in the wizarding world, though, conflict is rarely far away.
This post contains spoilers for Fantastic Beasts and Where to Find Them.
When news of Johnny Depp's casting as the dark wizard Gellert Grindelwald broke, the Harry Potter fandom was split in twain. Some welcomed the venerated character actor with open arms for his talent, while others felt uncomfortable having him associated with the Potter series due to reported accusations of domestic violence against ex-wife Amber Heard.
While Depp has probably a solid 15 seconds on screen in Fantastic Beasts, many on Twitter are claiming he stole the show. Excitement for Depp's role as Grindelwald — who was Albus Dumbledore's love interest — will, undoubtedly, only grow with the sequels; it's been reported that Depp will play a large role in at least the second film in the series. Some on Twitter have even gone so far as to claim the role will win him an Oscar.
As for those who disagree with Depp's casting as Grindelwald, some simply think he's not the right pick for the role.
Others seem not so much upset about who Depp is as an actor, but, rather, who he is as person.
The film's executive producer David Heyman, when asked about Depp's casting and the controversy surrounding the abuse allegations, said: "Here's the thing: Misogyny, abuse, maltreatment of people is unacceptable — but none of us know what happened in that room. So I think it would be unfair for me to be judge and jury, or for any of us to be judge and jury."
Rowling also supported Depp's casting, and said she was "delighted" and, "He's done incredible things with the character."
Fantastic Beasts and Where to Find Them with Depp as Gellert Grindelwald is now in theaters.