There's Much to Fear in 'Fear the Walking Dead' Season 3 Preview
There's no Negan, but there are still zombies, and worse.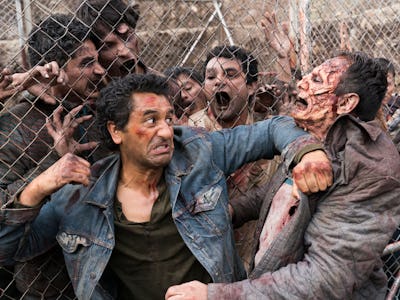 AMC
It's time to go back to the wasteland. The third season of AMC's Fear the Walking Dead is set to premiere on June 4, and the spin-off zombie drama is picking up where the show's much-improved second season left off. Although Travis's family is reunited (sans Chris, who died last season), they're separated from street-smart Victor Strand (Colman Domingo), who is now "finding the new currency" of the new world. AMC's just-released Season 3 featurette gives an abundant look at what's ahead, including a military camp that's conducting some nasty experiments.
The preview gives a breakdown for every character, including Madison (Kim Dickens), Alicia (Alycia Debnam-Carey), Nick (Frank Dillane), and the aforementioned Victor. Both Travis and Madison are prepared to protect their family more than ever, and Alicia has matured from a teenager into a survivor since the show began. Meanwhile, Nick — who has fallen in love with Lucy (Danay García) — is learning to care for others, as Lucy is still recovering from gunshot wounds she suffered from in the finale.
As a standalone prequel to The Walking Dead, the characters in Fear the Walking Dead are only just learning to adapt to the new world. While Rick and the gang suffer under gangs, governors, and Saviors, the family that anchors Fear the Walking Dead are just doing their best to stay together.
See the preview below.
Fear the Walking Dead premieres Sunday, June 4, on AMC.