How Lucy's Faith Broke in 'Fear the Walking Dead' Season 2
"That's something every immigrant goes through."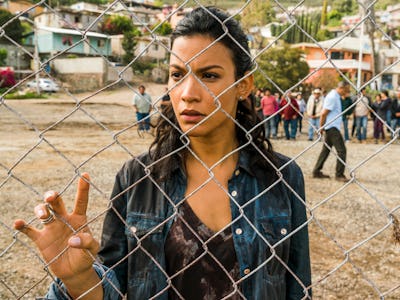 AMC
The fall of civilization is a hard thing to deal with. When people get desperate, they turn to anyone who can promise that there's a tomorrow. For Lucy (Danay García), that shattered hope made the journey in Season 2 of AMC's Fear the Walking Dead all the more difficult. A member of the secluded La Colonia community in Tijuana, Lucy believed so strongly in the community's leader Alejandro (Paul Calderon), a pharmacist who claimed to be immune to the walkers. Pharmaceutical expert or not, his immunity was a hoax, and when Lucy learned the truth, it changed everything for her.
"At least it was for the good of all," argues García, looking back on her character's debut arc in an interview with Inverse. "She was not completely betrayed. It was betrayed to save us. That kind of kept Lucy going, but still, trust is [now] really an issue for her."
In talking to Inverse during the Blu-ray release of Fear the Walking Dead Season 2, García ruminated on her character's arc, which poses similar questions that all characters in the show's universe share. "I'm really curious to see how [the show] is going to explore my trust and what I'm going to do about it," she said, speaking as Lucy in the first person. "My whole life was built around my faith and what was told to me. When I realized that it was a lie, in spite of the fact it worked, it doesn't take out that it was a lie. It's a trap."
García intimately knows what it's like to enter new worlds without a safety net. In 2003, along with her two-year-old son, she escaped her native home in Cuba and defected to the United States. After landing a few film roles (and almost starring opposite Daniel Craig in 2006's Casino Royale), García got her big break on Fox's Prison Break. When she was given Lucy in AMC's hit zombie drama, García says she found common ground with her character's desperate struggle to escape and survive.
"It was more like my personality just came to light," says García. "That was myself in that position. Today, I don't know how we did that, but we did, and it was that method [that is] very much me as a person. Whatever comes at me, I don't think about it twice, I will just hunt for a solution. I will just try to make it work. That was definitely Luciana."
At the end of Season 2, Lucy wound up in a tough spot at the U.S.-Mexican border. In the cliffhanger ending, a bullet from an armed patrol has pierced her side, threatening her relationship with Nick, the only stable thing now in her life. "The thing we connected on is that we're both orphans in this world," says García. "Nick is an orphan by choice, I am an orphan because my parents died. We have this commonality of pain, being alone in this world that everybody has left, and we found each other. This connection exists based on our pain and fear. It's a natural instinct to gravitate towards that."
Lucy gave Nick a hard time when they met, which is what García calls "tests" to ensure Nick is somebody she can depend on. "She puts him to the test because if she's going to open up, he could easily walk away. She thinks, 'Wow, everybody has left me. I need to make sure he passes all these tests before I even open up to him.' He really went through all of them."
And now, there's a bullet between them. Where Lucy had authority over Nick in the colony, now Nick will navigate them to survive on the other side. "In Season 2, I was the local," explains García. "The Americans were the foreigners. Now [in Season 3] we switch roles. I have to follow somebody else's rules. It will be interesting. That's something that every immigrant goes through."
Fear the Walking Dead Season 2 is available now on Blu-ray. Season 3 will premiere in 2017.