The Best Dating Apps For Whatever Action You're Looking For
Are you looking for a night partner, a life partner, or something stranger?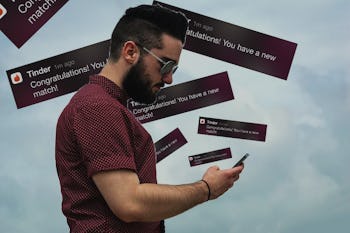 Flickr / lookcatalog
Striking out on dating apps? Maybe you're using the wrong app.
If you want to get married in the next year, for instance, you really shouldn't be looking for your eternal Netflix partner on Seed. If you want to order someone to your apartment for casual sex like they're takeout, eHarmony's not your bag.
And believe it or not, Tinder isn't for everyone. Despite being extremely popular, the app doesn't get great reviews from users, not even cracking the top 20 dating and sex apps in ratings. We're not saying you shouldn't have an account — swiping right and left is always going to be fun, and there's something exciting about an app with over 50 million users — but still, you might also want to look elsewhere.
Before we go over the best apps for different people, here's a look at the dating apps with the most satisfied users from a 2016 Applause report:
Glancing at this data, we'll note that JustSayHi, the most popular video-based dating app, blows all competition away as the most-often enjoyed dating app on the market. Although the app is free, it's filled with pop-up ads and doesn't allow you to filter many of your matches. The second most popular app for straight people, Mingle, also uses video profiles, so it's easy to draw a conclusion there. Mingle is free as well, and it adds a group chat function — remember AIM singles chatrooms? — that JustSayHi doesn't have. Mingle takes a chatroom, adds in Chatroulette, and puts the whole thing on your phone.
But let's say you're hesitant about uploading videos and you want to do this dating app thing the old fashioned (you know, like early 2010s) way. That we've broken down for you too.
If you're seeking casual heterosexual sex
Tinder is still the go-to app for most people when they want casual sex. But you know all about Tinder, with its famous interface and millions of users, so let's talk about other apps.
A few other good options are Jaumo, Moko or Skout than Tinder.
Jaumo, according to the app data above, ranks "excellent" among users. It was created in Southern Germany in 2011 and boasts over 20 million worldwide users, though admittedly it's more popular outside the United States. Jaumo is free to use, though its "red carpet version" is available to users as well. Controversially, Jaumo allows users to geo-locate others on a map (if they've opted into that service), which might put some people off.
Skout is actually the largest dating app in the world, though, like Jaumo, it's not as big in the U.S. Skout encourages its users to contact people who don't live near them and wants you to check in when you go to public events so you can run into other Skout users. It's a great way to gauge who at a concert or club is willing to see where things go.
If you're seeking casual non-hetero sex
Hornet, GROWLr, and Scruff are the three apps most beloved by men who like kissing men, regardless of how they identify. GROWLr and Scruff are primarily for bears and cubs, but Hornet services guys of all physical types. Hornet also allows users to talk to men all over the world, so you can experiment with chatting up strangers until you're ready to meet up IRL.
In the bear dating world, Scruff allows you to share photos with individual guys easily by adjusting your privacy settings. Meanwhile, GROWLr has a robust and detailed events section, in case you want to bring some bros to an event.
Surge is the second most beloved dating app in the data set above, and it's the number one most highly rated app for gay guys. All the apps listed in this section have options for guys looking for a serious relationship, but their primary function is to hook up strangers quickly. Surge, especially, markets itself as more of a quick hook-up app than a place to make a lasting connection.
Many dating apps allow people to search for partners based on gender identification, but HER is the premier app for women seeking other women (or anyone who isn't a cis-man). HER is more community-minded than most dating apps, and it allows you to upload text files in addition to photos, as well as mark other people as friends instead of potential matches.
If your parents are bothering you about settling down
The gold standard for serious, monogamously-minded straight people is still eHarmony, but because that site refuses to let anyone other than "breeders" join (only heterosexual matches allowed), it's difficult to sing its praises. It's also pay-to-use.
OKCupid maintains its intellectual branding by collecting data on all of its users (answers to public quiz questions, that is) and publishing reports on what sort of behaviors gets people matched up. Though there are certainly ways to remain open for casual flings on OKCupid, the mere fact that you have to fill out a long profile suggests you're in this for the long haul. OKCupid is free, though a paid account allows you to search for users with specific details in their profile. If you perform well on OKCupid, you may also be invited into its top-tier wing of "most attractive" users.
Generally, if you're looking to meet "the one", apps like Coffee Meets Bagel, Bumble, and Hinge, aka The Relationship App, are your best bets for robust matches based on your interests, location, mutual friends, and conversation. All three apps are free.
Most users are super into creating detailed profiles, either because they want to meet someone special, or they're friggin' nerds.
Lastly, if you're looking for a serious partner and you fancy yourself a dime-piece and someone with a reputable job and education, you may want to take a crack at applying for The League, a free dating app which searches through your social media and only allows you to join if you're deemed "a catch" by the developers. Once you're in, The League gives you four matches a day and allows you to (you guessed it) swipe left or right.
For group sex with men and women
There are numerous ways to make group sex happen; sometimes a situation begins with a threesome and sometimes it begins when a group of like-minded people trying to date or mess around meets at a bar. There's also the extremely not-casual route to group sex: using an app to attend a sex party or BDSM dungeon.
There are no rules stated on most "group date" apps as far as who's supposed to go home with whom. So technically, though Tinder Social, Entourage and Grouper advertise themselves as ways to bring your buddies along on an otherwise-awkward first date, all of those apps could be a one-way ticket to orgy-town.
See also: Selfie psychology swipes right on Tinder's basic premise