Unlock Gal Gadot's Wonder Woman Movie Gear in 'Injustice 2'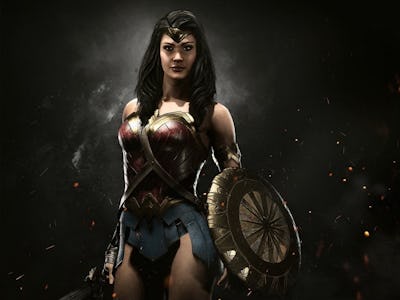 Warner Bros. Interactive
Praise Zeus! Gamers addicted to bashing superheroes together in NetherRealm's Injustice 2 can now unlock Gal Gadot's Wonder Woman costume, as seen in the new movie. This isn't the first time the Injustice games have featured movie costumes, but to get the DCEU's Wonder Woman, you'll have to put in some effort.
To snag Diana's movie digs, you'll have to act fast. The limited-time event began on May 29 and only lasts until June 5. Players who complete the Multiverse event "To End All Wars" can unlock the DCEU Wonder Woman gear for their Wonder Woman avatars. Like all gear in Injustice 2, individual pieces lend buffs to particular stats, such as health or power. Given the newness to the event, it's unclear which buffs this gear set gives to the Amazonian warrior.
It's worth noting that this Multiverse event unlocks gear, not skin, for Wonder Woman. It's well-known by now that Injustice 2 lets players customize their favorite characters with unlockable pieces of armor, but they're also able to play as certain bonus characters, using "skins" that remake characters. For example, players can unlock a Power Girl skin for Supergirl, or a Reverse-Flash skin for the Flash. That's not the case with the unlockables from this Multiverse event, though.
This also isn't the first time the DC movies and TV shows have been featured in the Injustice games. In the original game, Injustice: Gods Among Us, players could download Henry Cavill's Man of Steel costume for Superman, as well as Stephen Amell's Arrow for the Green Arrow. Amell even provided his voice for his avatar.
See the trailer for the Wonder Woman DCEU gear in Injustice 2 below. You can play to unlock the outfit from now until June 5.