New Poster for Netflix's 'Castlevania' Updates the Original Game
It's a pretty overt (and awesome) homage.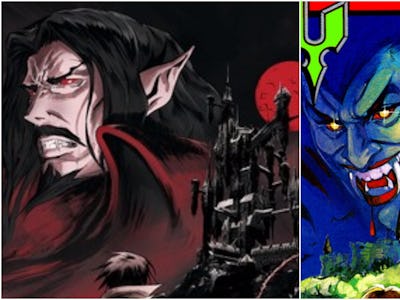 Netflix
Netflix's Castlevania adaptation is slowly but surely rising from its coffin. The first trailer for the "R-rated as fuck" anime hit the web earlier this month, and now Netflix has unveiled a new poster that should look very, very familiar to anybody who played the video game the show's based on back in 1986.
The poster, which made its debut in the Japanese gaming magazine Famitsu, shows the whip-wielding vampire hunter Trevor Belmont staring down Dracula's ornate Gothic castle underneath the light of a blood moon. Dracula's massive visage looks down at his would-be challenger, filled with malice and spite. According to Netflix's description, the show, like the game it's based on, will follow the "last surviving member of the disgraced Belmont clan, trying to save Eastern Europe from extinction at the hand of Vlad Dracula Tepe himself."
It's a cool poster, as you can see below, but what's really cool is how it updates the box art for Castlevania III.
The pose is pretty much identical, but there have been some major changes. Everything in the new poster has a major anime vibe, which makes sense. Beyond that, the aesthetics have been updated a bit. Dracula's castle is more jagged and Gothic, and Trevor Belmont is wearing clothes instead of a glorified fur loincloth. Dracula no longer looks like a cliché western vampire, though it's up for debate if the new look is scarier than the old one.
Castlevania will premiere on Netflix on July 7.