First Poster for Netflix's 'Castlevania' Series Is Fittingly Bloody
It looks gothic and intense.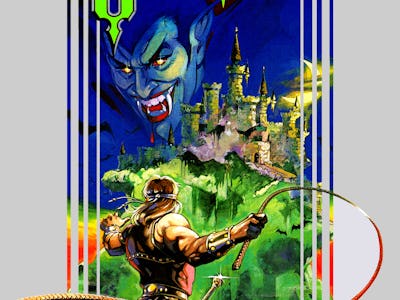 Konami
Netflix's upcoming animated adaptation of the Castlevania video game series is going to be intense, violent, and, in the producer's words, "R-rated as fuck." Well, the producer shared the first poster for the series. It doesn't give away too many details, but it certainly sets a mood — this show is going to be gothic, supernatural, and bloody as hell.
Adi Shankar, Castlevania's co-producer and a bit of a character, revealed the poster on his Facebook page in the dead of night, fittingly. It's a view of Dracula's ornate, ominous castle underneath a blood red moon. Bats swarm the spiked towers, and the whole scene just looks rather hellish, yet strangely beautiful.
Dracula's castle is an imposing arrangement of towers and perilous walkways. It seems very maze-like, which would be fitting given the video game it's based on. Castlevania, along with Nintendo's Metroid series, gave birth to an entire genre of sprawling, intricate side-scrolling games known as "Metroidvania" by fans. Trevor Belmont, the show's presumable main character since it's based on Castlevania III: Dracula's Curse, will no doubt have a hard time navigating his vampire enemy's domain — if he survives.
The first part of Castlevania's first season will air at some point in 2017, according to Netflix.