Netflix's 'Castlevania' Adaptation Is "R-Rated as F***"
It'll be like 'Game of Thrones,' the co-producer says.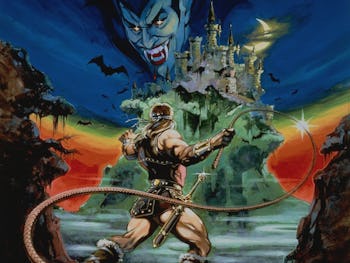 Konami
Netflix quietly, casually announced that it was making an animated series based on the vampire-slaying video game franchise Castlevania by burying the title in a list of new shows the streaming service is going to air in 2017. Although Netflix hasn't revealed too many additional details about the series, Castlevania's co-producer says it's going to be "R-rated as fuck."
It's not actually the first time that Adi Shankar, who spoke to IGN, has talked about Castlevania, even if Wednesday was the first time Netflix ever said anything about the adaptation. Shankar, who is best known for producing The Grey, said he was working on an uber-violent Castlevania back in 2015 and that he was working with author and comics mainstay Warren Ellis and the animation studio behind Adventure Time, Frederator, to create it. Netflix, it appears, has picked up the series.
"This is very much Castlevania done in the vein of Game of Thrones," Shankar told IGN, adding that they've expanded on the source material (the series will mostly draw from the NES game Castlevania III: Dracula's Curse).
"This is going to be the best fucking video game adaptation we've had to date," Shankar said, which, uh, isn't exactly that high a bar.
On its website, Netflix describes the series as "a dark medieval fantasy following the last surviving member of the disgraced Belmont clan, trying to save Eastern Europe from extinction at the hand of Vlad Dracula Tepe himself."
Shankar said that the art style for the series was inspired by Akira, Ghost in the Shell, and Young Justice. He called it "America's first animated series for adults," which is patently untrue. C'mon, dude. What about The Simpsons, or literally anything on Adult Swim? Heck, BoJack Horseman also airs on Netflix.
Netflix says part one of the season will air at some point in 2017 and will consist of four 30-minute episodes.