Netflix Shares Epic First Trailer for R-Rated 'Castlevania' Series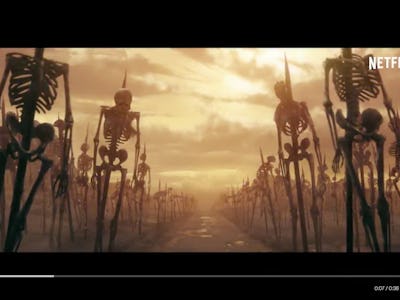 Netflix
On Wednesday, Netflix shared the first trailer for the R-rated show Castlevania, a spin-off of the popular 1980's video game series, and it looks flame — in a totally literal way. Full of explosions, fire, gore, and dialogue that threatens to be completely cheesy, but also gratifying, the trailer is epic.
Castlevania will be based on the third installment of the video game, Castlevania III: Dracula's Curse, and will be gory and "R-rated as fuck." Producer Adi Shankar has compared it to Game of Thrones. Netflix describes the show as the following:
"Castlevania is a dark medieval fantasy following the last surviving member of the disgraced Belmont clan, trying to save Eastern Europe from extinction at the hand of Vlad Dracula Tepe himself."
The trailer doesn't give us too much new information; it's basically a hype machine stocked with bleak scenery shots and a dramatic fight montage. The trailer doesn't even name the protagonist, and instead just teases us with this dialogue: "Who are you?" "The man who'll kill Dracula."
But seeing as how Dracula's Curse featured Trevor Belmont as the main character, he's probably the star here. And this guy in the trailer certainly looks like Trevor. He's definitely some Belmont or other since he's got the signature "Vampire Killer" whip that's passed down through the family.
The trailer provides a taste of the music from the show. The original video game had a killer soundtrack.
Watch the trailer below. Castlevania will premiere on Netflix on July 7.