No, President Trump Didn't Tweet About the Portland Attack
Critics say this was intentional.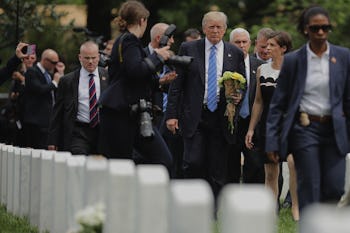 Getty Images / Aaron P. Bernstein
On Friday, Jeremy Joseph Christian is alleged to have killed two people in Portland, Oregon, during a racially charged confrontation aboard a public train. The attacker was harassing fellow commuters with anti-Muslim insults, and when bystanders tried to intervene, Christian attacked them with a knife. Two of the victims died and a third was injured. Three days later, President Donald Trump appeared to send out a tweet publicly denouncing the violent act.
"The violent attacks in Portland on Friday are unacceptable. The victims were standing up to hate and intolerance. Our prayers are w/ them," read the tweet, which came from the official Twitter account of the President, @POTUS. Major news media outlets such as CNN, Politico, and Newsweek were quick to cover Trump's announcement.
Here's the thing, though: It is widely known that President Trump does not tweet from the official presidential Twitter account, which has 18.1 million followers. He only uses @realDonaldTrump, his personal account, which has 30.9 million followers. White House Social Media Director Dan Scavino Jr. composes the tweets for the @POTUS account, while President Trump has famously maintained his personal account since his inauguration.
And while the official presidential Twitter account ostensibly represents the views of President Trump, critics are quick to point out that Trump has been silent about the attack on his personal account. Some suggest that this is an intentional effort to not upset nationalist supporters.
This disparity is significant, say critics, since it sends a clear message to Trump supporters: As the President of the United States, Donald Trump is required to say something about this violent act that was apparently motivated by Islamophobia, but he's only saying it because he has to.
Critics have identified this as a pattern for President Trump: He is quick to complain about being treated unfairly but slow to condemn hate crimes.
While President Trump's @POTUS account was tweeting about the Portland attack, the president himself was preparing to attend a Memorial Day ceremony at Arlington National Cemetery.