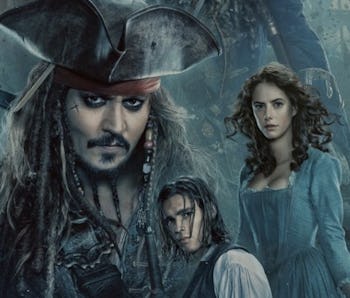 Entertainment
'Pirates of the Caribbean 5' Sails Ahead at the Weekend Box Office
Disney
Pirates of the Caribbean: Dead Men Tell No Tales did manage to hook the top spot at the box office this weekend, but it's not exactly a treasure trove.
The film grossed $62.2 million from 4,276 domestic cinemas this weekend, and will likely make $76.6 million over the total Memorial Day long weekend.
It's an okay showing, but it's not great considering that the last installment in this seemingly never-ending franchise, Pirates of the Caribbean: On Stranger Tides, delivered $90 million on its first weekend at the box office, and went on to gross over a billion worldwide.
Add to that a production price tag of $230 million and a current Rotten Tomatoes critics score of 31 percent — to be fair, audiences have given it a 76 percent rating so far — and Disney might be feeling a little nervous about the film's box office longevity.
On the other hand, things could be worse. Baywatch, Paramount's attempt at a fun, summer comedy staring Dwayne "The Rock" Johnson, managed a measly $18.1 million in 3,647 theaters so far, with an estimated run of $22 million by the end of the four-day break.
Pirates of the Caribbean: Dead Men Tell No Tales stars Johnny Depp as eyeliner enthusiast Jack Sparrow. This time around, the salty pirate is trying to escape the clutches of an old enemy, Captain Salazar (Javier Bardem), and his legion of deadly ghost sailors. Keira Knightley and Orlando Bloom are also back for this installment. The film is directed by Joachim Ronning and Espen Sandberg and produced by Jerry Bruckheimer.