'Pirates of the Caribbean 5' Clip Shows Keira Knightley's Return
by Monica Hunter-Hart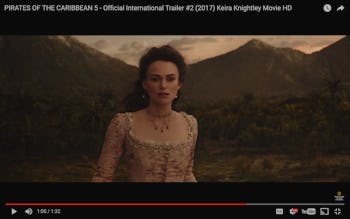 Photo via YouTube / Account Comicbook.com
Despite previous indications to the contrary, it appears that Keira Knightley will be making an appearance in Pirates of the Caribbean: Dead Men Tell No Tales, the fifth installment of the Disney series, as evidenced by some newly released footage from the film. Less clear is what her role in the sequel will entail.
In 2014, Knightley told BBC Radio 2 that she was done with the Pirates franchise. "My time has definitely passed," she said. "I loved it, it was an amazing experience, but I won't be going back." It seemed as though Carina Smyth, a new character in Dead Men Tell No Tales, was going to be the series's token female, replacing Elizabeth Swann and Penélope Cruz's Angelica from the fourth film.
But a new international trailer proves otherwise. A teaser narrated in Japanese includes a clip of Knightley staring at the camera in front of a tropical, mountainous background. If she does return, let's hope that her part is significantly more than this.
Circulating rumors suggest that Knightley could be back for a short post-credits sequence that sets up a sixth sequel. A general feeling among fans is that Disney has overstayed its welcome in continuing this franchise, but a film starring Knightley, perhaps reviving her role as a Pirate King, could prove to be a redeeming twist.
Watch the new trailer below, and check out a previous trailer, too.
Pirates of the Caribbean: Dead Men Tell No Tales will premiere in theaters on May 26, 2017.