'Pirates' Poster Offers Best Look at Jack Sparrow's New Adversary Yet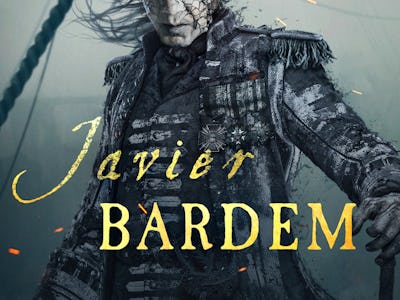 Entertainment Weekly
In the fifth installment of the Pirates of the Caribbean franchise, Javier Bardem's nefarious undead pirate hunter, Captain Salazar, presents Captain Jack Sparrow with his most formidable adversary yet. As new character posters reveal, Salazar has sound reason for his vendetta against Jack. In his younger years, Sparrow was responsible for giving Salazar's face a ghastly Phantom of the Opera-esque appearance. No wonder everyone is grumpy with him in the trailer.
Sparrow burned Salazar's face to its current crispy state, at some point, before audiences ever got to know the unique pirate. Dead Men Tell No Tales follows Salazar and his Spanish ghost crew as he seeks vengeance, not just against Sparrow, but against all who sail under black flags. In order to combat Salazar, Sparrow seeks a mysterious and powerful artifact known as the Trident of Poseidon. In a way, it's a return of sorts to Curse of the Black Pearl's ghost pirate roots.
The film looks to be a throwback in other ways as well. Orlando Bloom's Will Turner is returning, and his son Henry, played by Brenton Thwaites, is making his debut. He's entering the story seeking answers about what happened to his long-lost father.
Check out the character poster for Javier Bardem's Captain Salazar below:
And check out Brenton Thwaites as the newest and youngest Turner — with a haircut resembling his father's in Curse of the Black Pearl — right here.
The rest of the character posters can be found over at Entertainment Weekly.
Pirates of The Caribbean: Dead Men Tell No Tales hits theaters on May 26.