Ex-SpaceX Employee Told "Don't Tell Elon" About False Tests
A former technician says he was told to falsify rocket part test results by his superiors.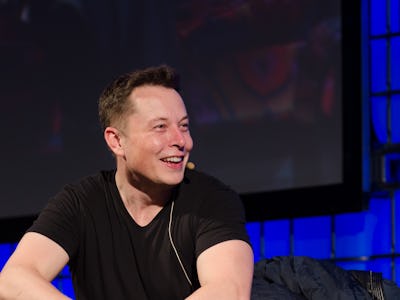 Flickr / Heisenberg Media / Dan Taylor
The former SpaceX technician who says he was fired for raising concerns about rocket part testing protocols and results says his superiors told him one thing: "Don't tell Elon." The technician says company president Gwynne Shotwell directly ordered him to keep his concerns from SpaceX CEO Elon Musk at all costs.
During the second day of his testimony in a Los Angeles court on Wednesday, Jason Blasdell claimed that he and other technicians were pressured by upper management in the company to falsify test documents relevant to the safety and performance of rocket parts. Blasdell worked at the company for over three years and tested avionic components built for the company's flagship Falcon 9 rockets before being fired in April 2014. He's now suing the company for wrongful termination.
Blasdell told the jury he managed to sit down with Shotwell to discuss his concerns, according to an account of the testimony published Wednesday on Law360. But Shotwell's response was not the one he was hoping for.
"Her exact words were, 'Don't tell Elon, do not tell Elon. If he finds out about this, we will all get fired,'" Blasdell's lawyer, Carney Shegerian, told the jury.
Shegerian asked Blasdell if he felt like he was violating the law by falsifying test results, and he answered, "Absolutely."
Blasdell says he brought his concerns directly to the manager of human resources, Carla Suarez. "I told her that in the avionics test lab that managers had been pressuring us, pressuring me, to falsify test documents," Blasdell told the jury. "And that management is trying to point to me as being the problem instead of acknowledging and discussing actual falsification of documents as being the real problem."
"I told Carla because of that, it was important that I speak to Elon Musk personally because managers were blocking my feedback on this," Blasdell said. Blasdell said he was eventually able to meet with Musk to express these concerns, but the meeting went nowhere.
Before the jury trial, Blasdell's lawyers unsuccessfully tried to depose Musk, but were allowed to submit written questions and receive written responses. It's unclear whether these responses will surface during the trial.
If Blasdell's claims are true, they could have a direct effect on the future of crewed SpaceX missions. At the time of Blasdell's complaints, SpaceX was in the middle of a contract with NASA to conduct uncrewed resupply missions to the International Space Station. These resupply missions were critical, because SpaceX was vying for an even bigger contract: developing a vehicle capable of taking American astronauts to the International Space Station as part of the new Commercial Crew Program. SpaceX, along with Boeing, was awarded that contract in September 2014, a few months after Blasdell was fired.
Ostensibly, problems with the production of Falcon 9 rockets would seriously halt SpaceX's ability to meet CCP deadlines, as well as create fractures in NASA's confidence to continue a partnership SpaceX for both crewed and uncrewed missions.
Blasdell claims SpaceX's solution to these obstacles was simple: cut corners in the testing protocols and create fake results that met NASA's standards. Blasdell resisted; according to Law360, the company began to label him "disruptive," "a chronic complainer," and "troubled."
The L.A. jury was shown an email in which one of Blasdell's managers wrote to him that it "took a lot of balls to go out on a limb like you did." That manager nevertheless asked Blasdell to keep their discussion private, "since it could result in my termination."
SpaceX's lawyers counter that Blasdell was fired because of performance issues, and failing to fulfill his job duties. They argue the technician's complaints were not related to safety or legal violations, but rather "inefficiencies" he perceived in the testing procedures. Safety concerns were raised only after he was fired.
"The evidence will show you that Jason Blasdell did not observe or witness any unlawful testing of rocket parts at SpaceX," SpaceX lawyer Lynne Hermle told the jury. "Jason Blasdell never complained about or reported any unlawful testing to anyone at SpaceX."
Hermle says that after Blasdell had a good start at the company, he began to act insubordinately, in ways that caused his coworkers to fear for their safety. "When Jason comes into the office area and the shooting starts, I'm jumping over the wall," Hermle said, quoting an email from another SpaceX employee.
SpaceX, for its part, is concentrating its attention on a very busy summer, with more launches in a single season than the company has ever attempted. The company appears to have recovered from its explosive failure in October of last year, but the government is still watching the company closely as it prepares for crewed missions to the ISS. Blasdell's trial is ongoing.