SpaceX Employee Says Alarms About Rocket Tests Got Him Fired
A wrongful termination suit is being heard in court this week.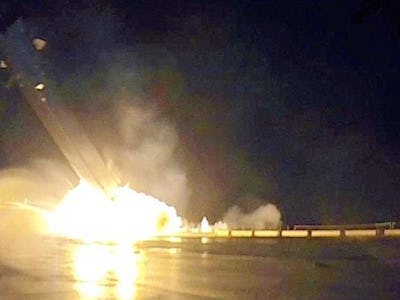 A former SpaceX technician is saying he was fired for bringing issues with the rocket-building test protocols to his superiors. Jason Blasdell is suing SpaceX for wrongful termination of his employment at the Hawthorne, California-based company. In opening remarks on Tuesday, Blasdell's lawyer told a Los Angeles court his complaints were unjustly dismissed and that results were falsified, which could jeopardize the safety of future crewed trips into space.
Blasdell says he even raised his concerns with SpaceX CEO Elon Musk at one point. The company fired him in 2014 for being "disruptive." Two years later, Blasdell filed his suit.
"He went up the chain of command as he had learned in the Marines was the proper procedure," Blasdell's lawyer, Carney Shegerian, told jurors Tuesday. "He had nothing personal to benefit from this other than to do the right thing."
The allegations, if true, are extremely serious. SpaceX is currently working to build and test a crewed version of its flagship Dragon vehicle (Dragon 2) which will take astronauts into space as a part of NASA's Commercial Crew Program. That project has hit numerous delays and has forced NASA into a stressful situation where it will probably need to continue relying on Russian Soyuz launches to get astronauts up to the International Space Station.
SpaceX is aiming to send astronauts to the ISS aboard Dragon 2 sometime in 2018, followed by a trip to the moon later that year as well.
Those launches will occur using SpaceX rockets, of course. Blasdell alleges the company brushed aside problems directly concerning problems in tests meant to ensure each rocket that was built met safety and operational standards. Blasdell worked for three years at SpaceX, testing out avionic components for Falcon 9 rockets.
Blasdell says that his managers pressured him and his fellow technicians to cut corners in test procedures and even lie that parts had been tested in order to push production forward.
SpaceX, for its part, denies that such actions ever occurred. SpaceX's lawyer, Lynne Hermle, told jurors Blasdell never witnessed signs of unlawful testing of rocket parts, and never brought such concerns to his managers or to federal authorities. The company says he was fired because his job performance was getting worse, and his colleagues began to fear for their own safety as a result.
Right now, it's unclear what kind of evidence Blasdell and his team intend to provide to back up his assertions. But it's worth remembering that less than a year after he was fired, SpaceX suffered a catastrophic setback when a Falcon 9 en route to the space station exploded in mid-flight. Blasdell may be attempting to draw a direct connection to whatever problems he claims to have observed, and the June 2015 accident.
In decrying more systemic problems that could affect the Dragon 2 during crewed missions, however, Blasdell may be saying the problems in the testing protocols are more deep-rooted.
Blasdell's testimony continues on Wednesday.