Conan O'Brien Fails Gal Gadot's Insane Wonder Woman Training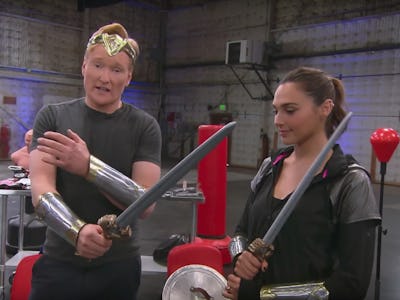 YouTube.com/Team Coco
It took Princess Diana of Themyscira a lifetime to become Wonder Woman, but actress Gal Gadot had only six months to prepare for the role. But as an ex-Israeli soldier, she had a head start on the insane workout, an advantage that Conan O'Brien did not have as he went through the paces during a hilarious segment on Thursday night's Conan on TBS.
Gadot, along with her trainer Ruda Vrba, gave O'Brien a crash course in her Wonder Woman preparation. The trio started with basic kicks (which devolved into can-can dancing) before moving on to sword-and-shield combat modeled after medieval Mediterranean warfare. In an interview with E! in 2013 (before Gadot started filming Zack Snyder's Batman v Superman), Gadot said her "very serious training regimen" consisted of "Kung Fu, kickboxing, swords," along with Brazilian jiu-jitsu, in order for her to gain body mass. In another interview with People and Emanuel Levy, Gadot said her background in dance and with the Israeli army eased her into the physical demands of becoming a superhero.
O'Brien, of course, only had a half hour to film the eight-minute segment — and it didn't go so well. But on the bright side, the late-night host is already a superhero: At the end of the segment, O'Brien dons his Super Conan costume, which was created last year by California-based Ironhead Studio for O'Brien's appearance at Comic-Con International in San Diego. Coincidentally, Ironhead Studio also created Wonder Woman's costume for Batman v Superman. When Conan asks if his character could be a love interest for Wonder Woman 2, Gadot hesitates before saying yes (well, kind of).
See Conan O'Brien's transformation below.
Wonder Woman will hit theaters on June 2.