Great Hera! DC Nails 'Wonder Woman,' Early Viewers Say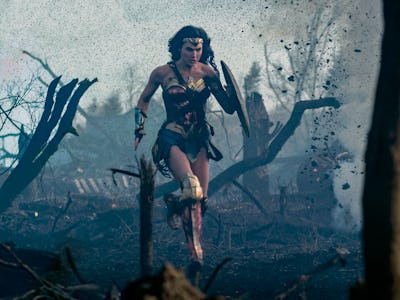 Warner Bros. Pictures
Over a year ago, Wonder Woman saved Batman's butt from Doomsday in the grim and dreadful Batman v Superman: Dawn of Justice. Now, Wonder Woman is saving the DC Extended Universe. Early reactions to Wonder Woman on social media are giving the film the highest of praises.
Although reviews are still under embargo, members of the press who saw the new film from Patty Jenkins several weeks ago were finally allowed to sound off their thoughts Thursday night. That's when movie journalists began overflowing Twitter with high praise for Wonder Woman, calling the film "fierce," "funny," and easily "the best DCEU film to date."
Critics praised the film overall, but reviewers said Gal Gadot especially shines as the Amazonian warrior. Several also noted Gadot's chemistry with her co-star, Chris Pine, who plays the World War I-era fighter pilot Steve Trevor and noted love interest of Diana of Themyscira.
It's not perfect, of course. Most of the criticism was levied towards the villains, which some noted weren't bad but predictable. Still, the words "flawless," "bold," and "exciting" would take up huge space in a word cloud of all these early Wonder Woman tweets.
Hardcore fans of the DC Extended Universe can breathe easy now. While there are fans of Man of Steel and Dawn of Justice, and even Suicide Squad, for some reason, there was extra pressure on Wonder Woman to deliver on the first blockbuster interpretation of the iconic superhero AND prove a female superhero can be great. There's still a ways to go before we get to true box office parity, but at least Wonder Woman is a great start.
Check out some early Wonder Woman reactions below.
Wonder Woman will be released on June 2.