Comcast Threatens to Sue a Website That's Critical of Comcast
by Monica Hunter-Hart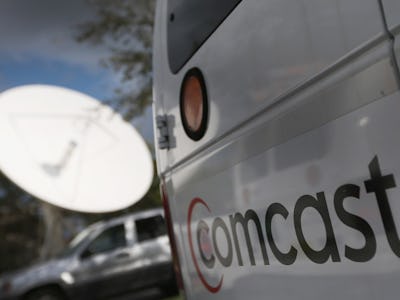 Getty Images / Joe Raedle
On Tuesday, Comcast threatened to sue the website Comcastroturf.com, which is raising awareness about a flood of identity theft occurring in the comments section of the Federal Communication Commission (FCC)'s website. Comcastroturf.com suggests that Comcast could be funding that identity theft and critiques the telecommunications company's anti-net neutrality stance.
In response to the FCC's recent steps toward dismantling the regulations on internet service providers (ISPs) that protect net neutrality (Comcast and other ISPs would benefit from the rules' removal), activists have descended on the FCC website to speak out against the proposed deregulations.
But many of the comments posted on the website have been proven fake. One identical statement was posted almost half a million times; people across the country have declared that they didn't publish it, even though it was listed under their name. Some of their identification information is thought to have been taken from public voting records.
Comcastroturf.com suggests that telecom companies like Comcast may be funding this spam to fabricate grassroots support for ISP deregulation, a shady practice that is often called "astroturfing."
Comcast sent the website a cease-and-desist order, declaring that its domain name was a violation of intellectual property rights because "it sounds the same, looks the same, and is spelled similarly to Comcast." The Uniform Dispute Resolution Policy "prohibits people from using domain names that are identical or confusingly similar to someone else's trademark."
Fight for the Future, the organization behind Comcastroturf.com, responded that it does not intend to take down the website, and that its domain name isn't actually a copyright violation because it doesn't attempt to impersonate Comcast.
"This is exactly why we need Title II net neutrality protections that ban blocking, throttling, and censorship," said Fight for the Future's Evan Greer. "If [FCC chairman] Ajit Pai's plan is enacted, there would be nothing preventing Comcast from simply blocking sites like Comcastroturf.com that are critical of their corporate policies."
"It also makes you wonder what Comcast is so afraid of?" Greer said. "Are their lobbying dollars funding the astroturfing effort flooding the FCC with fake comments that we are encouraging Internet users to investigate?"
Whether or not Comcast is funding the spamming, this cease-and-desist order certainly seems corrupt. Comcastroturf.com wasn't created to deliberately confuse people into visiting its site instead of Comcast.com; it was created to use the makers' First Amendment rights to call out Comcast's anti-net neutrality position, hypothesize that the company could be behind the FCC identity theft, and raise awareness about the spam.
The order states that Comcast is "prepared to resolve this matter amicably and without pursuing its claims for damages, but only if you immediately comply with its demands."
If you'd like to check to make sure that your own identity hasn't been stolen for a fake FCC comment, you can do so by visiting Comcastroturf.com.