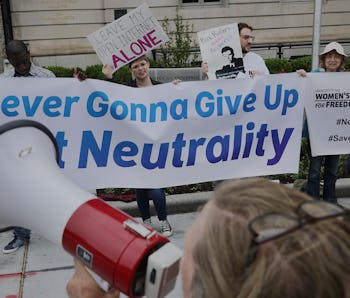 Innovation
It's Official: The FCC Begins Process of Killing Net Neutrality
Getty Images / Chip Somodevilla
On Thursday, the Federal Communications Commission (FCC) voted to open a review process on Obama-era regulations protecting "net neutrality" — the idea that internet service providers (ISPs) shouldn't be able to prioritize one website over another — that is expected to ultimately remove the regulations. The vote, which fell along party lines, was just the latest step the Republican-dominated commission has taken in its battle to deregulate ISPs.
The FCC has a proposal on the table from its chairman, Ajit Pai, titled "Restoring Internet Freedom." During the review process that's just been opened, the commission will consider the proposal internally and take comments on it from stakeholders and the public. Comments have already been flooding the FCC's electronic filing system since Pai first revealed it.
Another Republican on the commission, Mike O'Rielly, said that commenters should avoid merely summarizing the benefits of the old regulations, and instead evaluate their costs: "Instead of operating in economics-free zone where the benefits of the rules are assumed to outweigh any cost, commenters will need to provide evidence to support their arguments that the rules are or are not needed."
The review process will last 90 days, after which the FCC will likely revise Pai's proposal and eventually put it to a vote. All of this could happen within the year.
As it stands, Pai's proposal will allow ISPs to block content as they please, as well as charge websites differing rates based on broadband speed. This means that a new, small website, which theoretically would own less capital than a larger, already-established website, would have trouble competing with that bigger website. It also means that your provider could incentivize you to choose certain websites over others (potentially even websites owned by your provider) by making them load much quicker than others.
If that doesn't sound appealing, you may not be in for a pleasant outcome. There are twice as many Republicans as Democrats on the current FCC, so it's very likely that a deregulatory proposal will pass. Still, Democrats in Congress are reportedly preparing for a big fight to maintain the open internet, and activist energies did help to create these regulations in the first place back in 2014. Similar activism now is essential for the regulations to be protected.
Public comments are temporarily closed on the FCC's website, but should open again in a week or so.