Who Was the Manchester Arena Bomber? What We Know
ISIS claimed the crime, but he may have acted alone.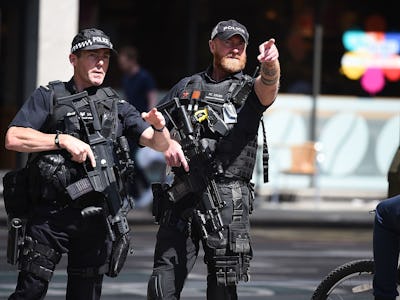 Getty Images / Jeff J Mitchell
On Tuesday morning, British authorities identified 22-year-old Salman Abedi as the chief suspect in the deadly Manchester Arena bombing, which killed 22 people and injured 59 others outside of an Ariana Grande concert in the city.
Abedi was born in Britain; his parents immigrated to the UK from Libya in the early 1990s. Authorities confirmed to the press that Abedi's ID was found at the site where he detonated an improvised explosive device, taking his own life and spreading shrapnel into a crowd of teenagers leaving the show.
Police raided two residences in southern Manchester, including the family home on Elsmore Road, where Abedi was said to be living, and an apartment in Royston Court, about a mile away. Neighbors of the Abedi family described the bomber as a "quiet," "respectful" young man.
"Salman? I'm astonished by this," an anonymous member of the Manchester Libyan community told the Guardian. "He was such a quiet boy, always very respectful towards me. His brother Ismail is outgoing, but Salman was very quiet. He is such an unlikely person to have done this."
Salman's father, according to The Daily Beast, was a well-respected member of the community. His mother, a teacher of the Quran, has reportedly been abroad for the past two months.
Also on Tuesday, the Islamic State claimed responsibility for the attack on two of its official propaganda channels.
But that doesn't necessarily mean the group planned and executed the attack. Part of ISIS's stated goal is encouraging and welcoming "lone wolf" attackers, like Omar Mateen, the shooter who killed 49 people at the Pulse nightclub in Orlando, Florida, in June 2016. ISIS officially claimed that attack as well but didn't appear to know much about it, mixed up details, and contradicted itself, despite the shooter's professed allegiance. In the case of the Manchester bombing, different ISIS channels posted drastically inconsistent accounts of the attack while details were still emerging, posting and retracting statements that contradicted each other.
In other words, Abedi's ties to the Islamic State are still completely unclear. Media reports suggest that the explosive used was a sophisticated IED, possibly designed to kill with nuts, bolts, and nails — that could mean Abedi did not plan the attack alone.
After the bombing, Department of Homeland Security officials stated that there was no threat to music venues in the United States.