After Manchester Bombing, DHS Says No Threat to U.S. Music Venues
"However, the public may experience increased security."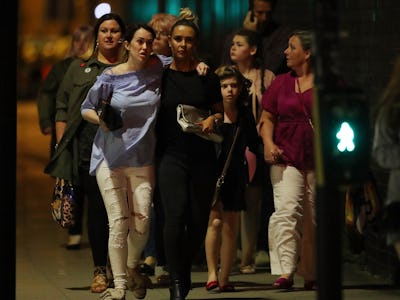 Getty Images / Christopher Furlong
In a brief statement released after the Manchester Arena bombing on Monday night, the U.S. Department of Homeland Security announced there was no specific credible threat to American music venues.
"At this time, we have no information to indicate a specific credible threat involving music venues in the United States," DHS announced via a statement. "However, the public may experience increased security in and around public places and events as officials take additional precautions."
On Monday, shortly after 5:30 p.m. Eastern / 10:30 p.m. UK time, a loud bomb — not confirmed but injuries are in line with that of a nail bomb — was detonated in the foyer of Manchester Arena, moments after a performance by pop singer Ariana Grande had finished. Nineteen people died with more than 50 injured. The arena holds 21,000 people; many in attendance were young girls and teens with their parents, videos showed.
See Also: Celebrities Rally Around Ariana Grande Concert Victims
DHS also instructed any affected Americans in the UK to contact the U.S. Embassy in London.
U.S. citizens in the area should heed direction from local authorities and maintain security awareness. We encourage any affected U.S. citizens who need assistance to contact the U.S. Embassy in London and follow Department of State guidance.
A video posted to Twitter by Grande fan Ellie Cheetam shows an arena clearing out before a very loud boom went off and panic ensued shortly thereafter:
A statement from Ian Hopkins, Chief Constable of Greater Manchester Police, around 3 a.m. local time, confirmed it was being investigated as a terrorist incident.
"We are currently treating this as a terrorist incident until we have further information," Hopkins said. "We are working closely with national counterterrorism policing network and UK intelligence partners."
At 9 a.m. UK time on Tuesday, an emergency meeting of COBR — which stands for Cabinet Office Briefing Room and is pronounced "Cobra" — will take place at Downing Street in London.