Celebrities Rally Around Ariana Grande Concert Victims After Manchester Bombing
"Broken hearted for the families tonight. Broken hearted for Ari. Broken hearted for the state of this world."
by Hannah Margaret Allen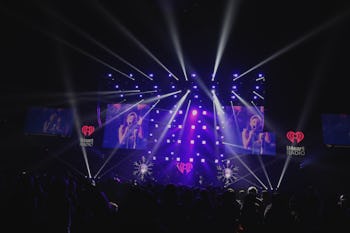 Getty Images / Tasos Katopodis
On Monday night, an explosion outside an Ariana Grande concert in Manchester, England has reportedly killed 19 and injured dozens. The suspected suicide bombing, which is being treated as a terrorist attack by the Greater Manchester Police, occurred in the area outside the Manchester Arena where parents pick up their children and concertgoers can buy merch.
As the horrific news came in, support and heartbreak started to pour out from celebrities and musicians on social media. While taking to Twitter in the wake of an attack is common, the messaging around this particular travesty feels heavier, sinks deeper. This is most likely because the 21,000-seat arena was packed with the 23-year-old pop singer's primary audience: young females.
See Also: After Manchester Bombing, DHS Says No Threat to U.S. Music Venues
Here is what's being said around the internet, starting with Grande's tweet.
Ariana Grande
Nicki Minaj
Bruno Mars
Katy Perry
Harry Styles
Selena Gomez
Chris Evans
Lorde
John Legend
Dwayne Johnson
Taylor Swift
Demi Lovato
Ellie Goulding
Chrissy Teigen
Nick Murphy / Chet Faker
Shawn Mendes
Brian Wilson
Cher
Russell Simmons
Anna Kendrick
Paramore
Ryan Seacrest