Ariana Grande Tweets She's "Broken" Over Manchester Bombing
"I am so so sorry. I don't have words."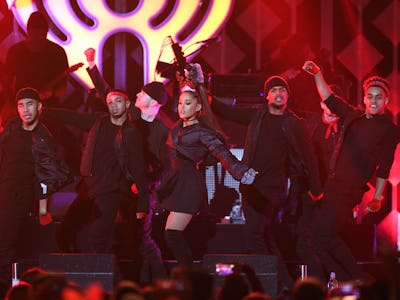 Getty Images / Catrina Maxwell
In the early hours of Tuesday morning in the UK, pop singer Ariana Grande said she was "broken" over the suspected suicide bombing that took place at Manchester Arena in Manchester, England minutes after her concert there ended. There have been 19 confirmed deaths and more than 50 injuries.
"Broken," the 23-year-old singer posted on her Twitter account to her 45.6 million followers. "From the bottom of my heart, I am so so sorry. I don't have words."
Grande was performing in the 21,000-seat indoor arena — the largest in the UK — early in her "Dangerous Woman" world tour that has 35 more dates and several continents to go before it's scheduled to wrap in September. TMZ reports she's suspended her tour indefinitely.
Chief Constable of Greater Manchester Police Ian Hopkins gave a brief statement around 3 a.m. local time, confirming an earlier police announcement that the explosion was being treated as an act of terrorism.
"We are currently treating this as a terrorist incident until we have further information," Hopkins said. "We are working closely with national counterterrorism policing network and UK intelligence partners."
Video that surfaced on Twitter and Snapchat in the moments and hours after the blast — which took place around 5:30 p.m. Eastern/10:30 p.m. UK time — showed an arena full of young teens and their parents, shrieking and panicking after a loud booming explosion could be heard.
Injuries at the scene are in line with what one sees from shrapnel and early but unconfirmed forensics say that it might have been a sort of "nail bomb."
The U.S. Department of Homeland Security announced on Monday night that no specific, credible threat against U.S. music venues had been found.