Watch 'Honest Trailers' (and Deadpool) Take on 'Logan'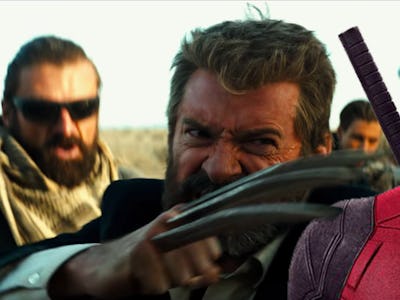 20th Century Fox
Just because Wolverine's farewell in James Mangold's Logan was a tearjerker doesn't mean it can't still be funny. To commemorate Tuesday's release of Hugh Jackman's final Wolverine movie on Blu-ray, YouTube filmmakers Screen Junkies just released the 200th episode of their parody series, Honest Trailers, which they've dedicated to Logan. But, even Screen Junkies get emotional thinking about Wolverine and Laura, so they called up someone very special to help them out. He's kind of a surprise, but we'll give you a hint: His name rhymes with "Headcool."
In Honest Trailers, Screen Junkies praise Logan for bucking the usual trappings of big-budget superhero movies, such as complicated timelines and the overabundance of CGI. But they also nitpick some things, like the unrealistically well-produced cell phone footage of the Transigen facility ("Man, iMovie must be sick in the future") or the weird reason mutants were wiped out ("by corn or something"). But still, the narrator can't help but weep when it dawns on him that the dark reality of mortality looms over everyone, even our childhood heroes. Man, Logan really is dark.
But, while Logan manages to make "the last seventeen years of X-Men movies look 'meh' by comparison," Honest Trailers still wants to make fun of it. So they call up Deadpool, with Ryan Reynolds in one of the most surprising internet cameos of the year. Sure, he's just in voice-over, and it was probably recorded in one take with his phone, but still: It's the third appearance of Ryan Reynolds's Deadpool! (If you count the pre-Logan teaser for Deadpool 2, which of course you do.)
See Honest Trailers get real about Logan below.
Logan is available now on Blu-ray.