'Lego Marvel Super Heroes 2' Trailer Is a Mini 'Infinity War'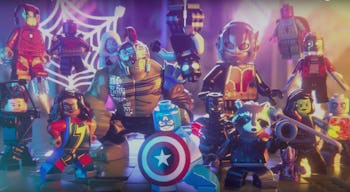 YouTube.com/Marvel Entertainment
The Marvel Cinematic Universe may not yet have Spider-Gwen or Ms. Marvel, but those young heroes will team up with the movie Avengers in November's Lego Marvel Super Heroes 2, the sequel to the 2013 video game that interprets Marvel in Danish block form. In a new trailer predominantly featuring the Guardians of the Galaxy and the Avengers, the Marvel gang bands together as one with comics-only characters like Spider-Man 2099 to take down Kang the Conqueror.
The new game was initially announced last week with a brief teaser featuring Lego Baby Groot running for his poor life. Now, the full-length trailer has Lego Baby Groot along with Lego versions of Rocket, Star-Lord, Black Panther, Ant-Man, Doctor Strange, Captain America, Thor, and Hawkeye from the movies. Accompanying them are (so far) comics-only characters like Spider-Gwen, Mysterio, Ms. Marvel, and Spider-Man Noir.
Although it's just a Lego video game, it's a heck of a neat preview of what Avengers: Infinity War and the future of the Marvel Cinematic Universe might look like. After Thanos, Kang the Conqueror would be a great cosmic villain if it weren't for the fact that Kang currently belongs to 20th Century Fox.
The original game was well-received upon its release in 2013 for its all-ages celebration of everything Marvel. Released on virtually every console conceivable at the time, Lego Marvel Super Heroes continued Lego's lucrative franchise of licensed video games. Other similar Lego games include Lego Star Wars, Lego Indiana Jones, Lego Batman, and Lego Harry Potter. In 2015, the game Lego Dimensions featured a mega-crossover with franchises including Doctor Who, Adventure Time, DC Comics, Knight Rider, The Simpsons, Mission: Impossible, Ghostbusters, Lord of the Rings, and the Wizard of Oz all in one package.
See the new trailer below.
Lego Marvel Super Heroes 2 will be released on November 14 on the PlayStation 4, Xbox One, and PC. A Nintendo Switch version is supposedly coming as well.