Hobby Drones Registry Struck Down by Federal Court
Registry invented to promote drone safety will no longer exist.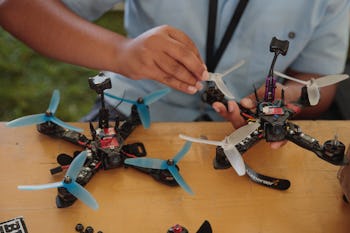 Getty Images / Drew Angerer
Libertarian drone enthusiasts probably rejoiced Friday as a Washington, D.C. court ruled that the Federal Aviation Administration's drone registration program actually violated the FAA's Modernization and Reform Act.
Resting on the reasoning that the FAA lacks the authority to regulate "model aircraft," hobbyist John Taylor successfully won his argument that the FCC should not be allowed to impose a registration rule on non-commercial drone owners. Hobbyists will no longer have to register their drones for a $5 fee or risk fines and possible jail time. According to Fortune, the registry was intended to promote drone safety and help identify dangerous drone operators.
Since 2015, hobbyists with drones weighing between 0.55 pounds and 55 pounds have had to register with the FAA. CNN reports that over 820,000 operators had registered since then.
The drone community is split when it comes to drone regulations. The Association for Unmanned Vehicle Systems International said it was disappointed in the decision by the U.S. Court of Appeals, and that a registry builds a culture of safety and helps to deter careless and reckless behavior.
The non-profit Academy of Model Aeronautics supported the decision, calling the restrictions "unnecessary and burdensome" in a statement.
China's DJI, one of the world's biggest drone manufacturers, had supported the FAA's initiative to create a registration system for small drones. In a statement attained by Fortune, Brendan Schulman, vice president of policy and legal affairs, said:
"The FAA's innovative approach to drone registration was very reasonable, and registration provides for accountability and education to drone pilots. I expect the legal issue that impedes this program will be addressed by cooperative work between the industry and policymakers."
The FAA said it is considering its options before moving forward. One option would be to appeal to Congress to amend the 2012 FAA Modernization and Reform Act, and have drones re-designated as something other than a model aircraft.
Don't miss: Drones Get a Bad Rap