Drones Get a Bad Rap
Drones have an image problem and that's keeping them from saving lives.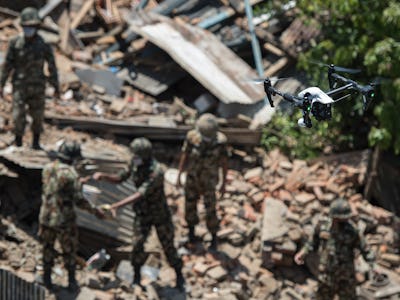 Getty Images / David Ramos
Up close, the scope of damage to the historic central Italian city of Pescora Del Tronto is hard to grasp. From the air, it's a different story as the landscape opens to show acres of rubble. Drones make those views more prevalent, but the quadcopters with GPS capability and attached video cameras serve a more critical need: search-and-rescue operations.
The 6.2-magnitude earthquake that hit Central Italy early Wednesday has displaced over 1,200 victims and completely destroyed three villages. At least 250 people have been reported dead and a number of the city's residents are still unaccounted for.
Drones have been used by both the Vigili del Fuoco — Italy's state-run fire agency — to provide footage to rescue workers and international news organizations. Meanwhile, rescuers use helicopters to locate and retrieve survivors in areas are blocked off by debris.
As the Wall Street Journal reported this week, Italy's past efforts in natural disaster recovery have "often been slow, inefficient and plagued by scandals." The speed with which drones could scout an area for survivors is one part of solving traditionally ineffective and slow rescue and recovery efforts.
Drones are fast becoming a staple of rescue and recovery missions due to precise location data and camera technology that displays clearer and more detailed information about damaged areas. Whereas helicopter footage can be expensive and satellites fail under poor weather conditions, drones can provide cheaper, more comprehensive data using oblique imagery that allows rescuers to see not just the top and bottom of a structure, but the sides as well.
While humanitarian aid and rescue groups — both governmental and volunteer-based — around the world are quickly adopting drone technology in first-response efforts, the technology is still in its early stages.
"Humanitarians are trying to work with public perceptions that drones are military technology and suspicious," Faine Greenwood, a research assistant and the Signal Project at Harvard University and co-author of "Drones and Aerial Observation," a guidebook to civilian UAV technology, tells Inverse.
Greenwood's researching how to alleviate the negative perception that prevents more aid organizations from incorporating drones into their relief efforts.
"They're cautious because they really depend on their reputations to operate in the countries they operate in," she says.
Greenwood cites the example of the Malta-based Migrant Offshore Assistance Station using drones in a partnership with Médecins Sans Frontières to locate small boats used by refugees fleeing the Middle East for Europe. "A useful tool with a toxic image," reads an article posted by MSF, after it was revealed the MOAS had given data from the drones to assist the Italian government in locating and arresting a human trafficker at sea. However noble, any affiliation with military police action can quickly ruin the unbiased image humanitarian organizations try to maintain.
So far, no private companies or individuals have reported drone involvement in the rescue efforts in Italy, Andrew Schroeder, co-founder of UAViators, tells Inverse. UAViators — a humanitarian network that promotes the safe, coordinated and effective use of UAVs for data collection — has 2,400 members in over 80 countries, including Italy.
Aerovison Canada, a private drone company that provided support during the April earthquake in Ecuador, is currently deciding how to best provide support in Italy, CEO Trevor Bergmann tells Inverse. The company is currently discussing options with both the governments of Italy and Myanmar — which also suffered a deadly earthquake yesterday — about a plan of action.
The involvement of private individuals, who often lack humanitarian training or the know-how to navigate local regulations and coordinate with humanitarian agencies, can also perpetuate inefficiencies and privacy issues.
While private organizations like Global Medic and American startup Effect received media praise for quickly bringing in drones to assist relief efforts in Nepal, Schroeder and Greenwood point out how rushing in to "play cowboy" can go badly.
According to Schroeder, issues in Nepal included drone operators not seeking proper flight permissions from the government and not sharing their data into a shared repository — rendering it nearly useless to other organizations.
Problems in the past have centered around the fact that technology is promising but it's not proven. "We have a sense they might be useful but we're not sure," Greenwood said.
"After the [April earthquake] in Ecuador we had a much better experience because a lot of the response on the UAE side was from Ecuadorians who spoke the language and understood local governments," Schroeder said, noting that one of the respondents had received humanitarian training from UAViators. "In the ideal situation, international actors should be queuing after local actors."