Bong Joon-ho's Netflix Movie 'Okja' Looks Amazingly Bizarre
Watch the first official trailer now.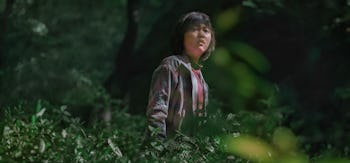 Deadline
Venerated writer and director Bong Joon-ho's next project, Okja, finally has an official trailer. The film will tell the story of a young farmer girl, Mija, in South Korea and her best friend, a 400-pound creature named Okja. Mija (Seo-Hyun Ahn) and a group of animal rights activists will team up to protect Okja from the crazed leader (Tilda Swinton) of a multi-million dollar international company, who has big plans for the "super pig."
Best known to American audiences as the writer and director of Snowpiercer (Chris Evans, Tilda Swinton, John Hurt), Bong Joon-ho's Okja is looking to be a little more uplifting than his last project.
"[Okja is] a very shy and introverted animal," director Joon-ho said, as reported by NME in December 2016. "It's a unique animal that we've not seen before."
Ahn's Mija and Swinton's Lucy Mirando will be joined by a big-name cast, including Steven Yeun (The Walking Dead), Lily Collins (Love, Rosie), Paul Dano (Little Miss Sunshine), and Jake Gyllenhaal (Life), most of whom will portray animal rights activists. However, the trailer hints at the group being a little shady, and not-to-be-trusted. Mija and Okja might be on their own in the end.
The film has been chosen to compete in the main competition for the Palme d'Or (the highest prize awarded) at the 2017 Cannes Film Festival in Cannes, France.
Okja will be available to stream exclusively on Netflix on June 28.