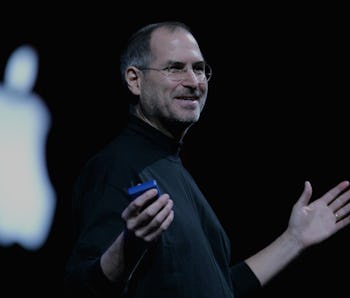 Innovation
Steve Jobs' Legacy at Apple Will Be Felt Most During the Summer
Let's talk about air-conditioning for a moment.
Getty Images / Justin Sullivan
Apple's new super-futuristic campus in Cupertino, California is getting around to filling itself up with employees. By the end of the full transition, more that 12,000 Apple workers will call Apple Park work. And all of those people will have to say goodbye to one amenity that's become a staple of every modern building in the modern era: air conditioning.
Make no mistake — Apple Park is fitted with a heating and cooling system for exceptionally cold and warm days. But by and large, the building relies on a natural airflow optimized to keep temperatures at a comfortable level between 68 and 77 degrees Fahrenheit.
The reason? Steve Jobs hated the A/C.
In a behind-the-scenes look at Apple Park, Wired discusses Jobs' influence in creating what the designers call a "breathing building":
"Jobs hated air-conditioning and especially loathed fans. (He vigilantly tried to keep them out of his computers.) But he also didn't want people opening windows, so he insisted on natural ventilation, a building that breathes just like the people who work inside it. 'The flaps and the opening mechanism,' [Stefan] Behling [from the firm Foster + Parnters] explains, 'all have to relate to sensors that measure where the wind is coming from and how the air goes through it.' Unlike sealed buildings in which the temperature is rigidly controlled, the Ring [another name for Apple Park] circulates outside air. The concrete in the floor and ceiling is embedded with tubes of water and is supposed to lock in a temperature between 68 and 77 degrees, so that the heating or cooling system will kick in only on very hot or cold days. (In theory some workers can use thermostats to adjust the temperature in a given pod, but only by a couple of degrees.)"
Jobs, said Foster, wanted a building that offered the sensation "of being both inside and out." The firm looked at the engineering of Formula One race cars, which optimize airflow to inhale cool air and exhale warm air.
There are strong reasons to support the use of natural ventilation over artificial climate control when it comes to office temperatures — most notably in reducing energy consumption and creating more environmentally-friendly workspaces. Natural air is also key to preventing the creation of hotspots for pathogenic bacteria to grow.
And it's not like the weather in Cupertino, California is extreme. The average high in July is 69 degrees and the average low in January is 49. One could have open windows nearly year-round.
In addition, Jobs really believed in the psychological and intellectual benefits of feeling connected to the outdoors — and it's not hard to argue that this has been key to helping Apple become an innovative force in the tech world. Lisa Jackson, Apple's vice president of Environment, Policy, and Social Initiatives told Wired the goal is to get employees to "recognize that part of being connected to the outside is knowing what temperature it is. We don't want you to feel like you're in a casino. We want you to know what time of day it is, what temperature it is outside. Is the wind really blowing? That was [Jobs's] original intention, to sort of blur that line between the inside and outside. It sort of wakes up your senses."
The Ring seems to harvest the benefits of feeling like you're outdoors and feeling like you're in an open setting that encourages free expression, without the drawbacks of actually dealing with the sun and wind directly in your face.