'Revenge of the Sith' Almost Had Natalie Portman Pull a Knife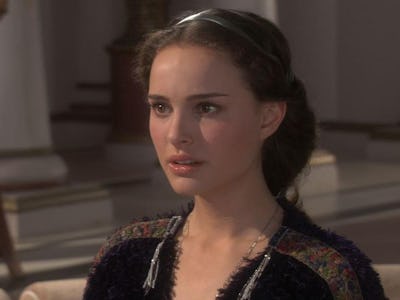 'Revenge of the Sith'
In one unused ending for Star Wars: Revenge of the Sith, Natalie Portman's Padmé Amidala would have pulled a knife on Anakin Skywalker in an attempt to literally and figuratively stab him in the back.
The glimpse at the gnarly, would-be alternate ending to Episode III comes from a talk given by concept artist Iain McCaig, noticed by Digital Spy on May 11. In this version of Anakin's final turn to the Dark side, Padmé would have had more agency and noticed Anakin's evil tendencies way earlier. As such, she would have made efforts to stop it, at both a political and personal level.
"Padmé can see that he is becoming a monster," McCaig explains in the video. McCaig says that Padmé starts organizing separatists and planting the seeds that would become the Rebellion to undo what Anakin and Palpatine are starting. And on Mustafar, when she goes to see him, "she has a knife in her hand." But McCaig explains that Padmé wouldn't have been able to kill the man she loved. "She loves him too much to stop him, even when he's become the monster."
Check out the section of his talk below.
In the final version of Revenge of the Sith, Padmé does little more than lament how much Anakin has changed, fails at convincing him to reject the Dark side, and loses her will to live after giving birth to Luke and Leia. It's an unfortunate end to an assertive character, who was once a bold leader and courageous hero in her own right.
Here's McCaig's concept art for the moment of their confrontation on Mustafar.
This was one of many monumental changes that was made in the production process for Revenge of the Sith. In the DVD extras, it was revealed that even after principal photography was wrapped, George Lucas continued making edits to the story — particularly with regards to Anakin's motivations — as he essentially rewrote the story in the editing room.
See Also: There Is a World Where Revenge of the Sith Is the Best Star Wars