'King Arthur: Legend of the Sword' Flops at the Box Office
The future of Guy Ritchie's medieval franchise might have just bitten the dust.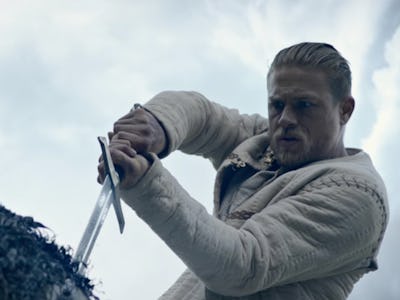 Youtube, Warner Brothers
King Arthur: Legend of the Sword didn't turn out to be the chosen king of the box office this weekend. For the second week in a row, Guardians of the Galaxy Vol. 2 remained in the top spot, raking in an additional $63 million.
King Arthur, on the other hand, only made it to $14.7 million domestically — not good for a movie that came with a $175 million production price tag. The film has made another $29.1 million globally, but that's still not enough to offset what will likely be a considerable loss.
It's also not faring well on Rotten Tomatoes, with a paltry 27-percent rating.
The medieval legend, starring Sons of Anarchy's Charlie Hunnam, was already plagued by an ever-evolving release date, which according to Deadline changed a total of four times.
King Arthur: Legend of the Sword is Guy Ritchie's style-heavy take on the myth's origin story. Critics have pointed out that the film lacks narrative substance and portrays Arthur as your standard superhero lead for optimal franchise fare. The film follows the would-be king as he discovers his true identity and fights his way to power. Legend of the Sword was initially conceived to be the first in an epic series of six films. Judging by these numbers, that may not become a reality.