There's Going to Be a Show About the Biggie and Tupac Murders
It's called 'Unsolved: The Murders of Tupac and the Notorious B.I.G.'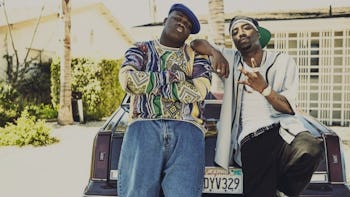 USA Network
The unsolved murders of Tupac Shakur and the Notorious B.I.G., the titans of '90s West and East Coast rap, respectively, are two of the biggest mysteries in all of music history. So, it only seems natural that they're being turned into the subject of a new true crime documentary, set to air on USA.
According to The Hollywood Reporter, the show will track two police investigations into each of the rappers' murders. Tupac was killed in a drive-by shooting in Las Vegas on September 7, 1996. Six months later, on March 9, 1997, Biggie was killed in a very similar drive-by shooting. Both cases remain unsolved.
Unsolved: The Murders of Tupac and the Notorious B.I.G. is based on the experiences of Greg Kading, a former LAPD Detective who led investigations into both killings. Tupac will be played by Straight Out of Compton's Marcc Rose, while Biggie will be portrayed by newcomer Wavyy Jonez. Westworld's Jimmi Simpson will play lead investigator Russell Poole with his partner, Detective Fred Miller, being played by Bloodline's Jamie McShane.
USA ordered a pilot episode back in November, and according to THR, folks who saw the first episode were floored by how good it was.
No premiere date has been announced as of yet.