'Straight Outta Compton' Wipes the Floor With 'Rogue Nation'
The low-budget biopic hath trumped the action sequel.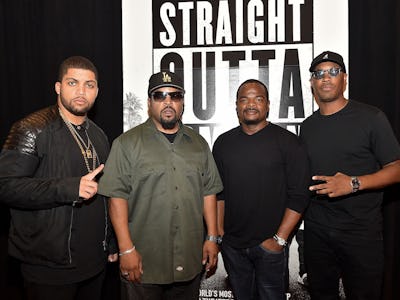 Straight Outta Compton opened on Thursday night in 2,264 theaters across the U.S. Security presence was upped at the film's premiere, and a majority of those cinemas playing the movie bolstered their measures, as many feared a repeat of the Trainwreck shooting in Louisiana. Nothing of the sort came to pass. The one notable takeaway from the night was the film's major ass-kicking of its closest competitors.
Previews of the N.W.A. rags-to-riches-and-back-to-rags drama began at 8 p.m. and generated $4.96 million in ticket sales over the course of the evening. It's tracking toward an impressive opening weekend in the $40-50 million range, as Fandango also reported that 70% of its advance ticketing sales came from moviegoers buying Compton tickets, making it the company's most popular biopic. Ever.
To give it a bit of context: The Man From U.N.C.L.E., which also opens this weekend and offered similar advanced screenings, pulled in $900,000 in the same time span. And in that small window of opportunity, it's made roughly a sixth of Fantastic Four's current domestic box office. That's in one night.
Better still, it beat Mission: Impossible - Rogue Nation's takings from last night ($2.6 million) and its own Thursday preview haul of $4 million. Cruise's $150 million block-bustin', plane-danglin' action sequel got kicked to the curb by a $28 million musical biopic.