Walmart Removes Offensive 'Thug Life' Mask
So, yeah, that's Tupac and it's not cool.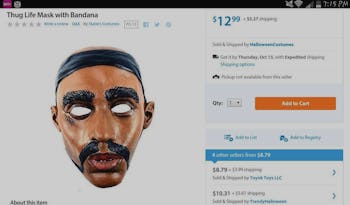 Twitter
Walmart has pulled their "Thug Life Mask with Bandana" Halloween costume after numerous customers were outraged with the product. Originally priced at $12.99, the mask attracted numerous complaints on social media for reasons that seem both obvious and subtle. The mask is clearly intended to resemble Tupac Shakur, the assassinated rapper who had the words "Thug Life" tattooed on his stomach. The mask has "THUG" tattooed under the right eye. It's problematic not only because Tupac had changes of heart about his self-representation, writing a letter entitled "Is Thug Life Dead?" from jail, but also because members of the black community protesting police brutality have been dubbed thugs by many commentators.
While the word "thug" originally denoted a violent criminal, it's been historically racialized. There are no white thug costumes at Walmart. So people began tweeting at Walmart for the mask to be removed. They asked for an explanation as to why this racist item was being sold in the first place.
And pointed out that the company insulted a large portion of their customers.
Some simply called it for what it was: bullshit.
This isn't the first time that Walmart has screwed up around Halloween time. Last year, the megastore offered a "Little Amigo" costume. And in 2014, the company had the plus-size costumes labeled as "Fat Girl Costumes." Both times Walmart had to fix their mistakes, deleting the listings and responding to upset consumers on Twitter. Walmart should be more vigilant when reviewing the Halloween costumes they plan to sell. Because they're obviously making poor choices year after year.
The store chain does have a Prohibited Products Policy, including a whole section explaining what can be deemed "Offensive." While they have taken the mask down, it should have never made it to the store racks if they were following this protocol.
We have reached out to Walmart for comment and will update the story once we hear back.