11 Last Minute Mother's Day Gifts on Amazon for the Tech-Savvy Mom 
Thank god for Amazon Prime and 2-day shipping.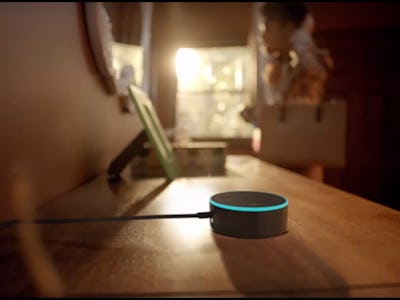 YouTube
Mother's Day 2017, aka Sunday, May 14, is right around the corner, which means it's time for some of us to begin that last-minute, frenzied shopping trip to find the perfect gift for mom. If that description sounds familiar, then don't worry — we've got you covered.
You could order flowers or Shari's Berries (or hell, even an Edible Arrangement) and pay too much for something that doesn't last. Or, you could get your cool, tech-savvy mom a gift she can actually use. Here at Inverse we recommend the latter option, so we've compiled a list of the best tech gifts for you to surprise mom with on Mother's Day. And for you slackers, we've also made sure the items are available on Amazon Prime. Do yourself a favor and order something, like, right now.
Tile Mate
Among the most inexpensive but still useful gifts in the bunch, the Tile Mate is a Bluetooth-enabled device that hooks onto a keychain and enables your smartphone to find it, as long as it's within Bluetooth range. Small and sleek-looking, it's the perfect gift for any mom who's prone to misplacing things like car keys or a purse, or who just wouldn't mind the added security of having one. (Starting at $21.)
F-Color Universal Dry Case
Planning a beach trip with Mom this summer? If so, it might be a good idea to grab some waterproof smartphone cases. F-color's Dry Case comes in multi-colored packs of four and is usable with pretty much any smartphone. What's more, the case ensures that the touch screen is completely usable while it's sealed. Like the Tile Mate, it's another low-budget but high-use gift idea. (Starting at $15.99.)
FOREO ISSA Electric Toothbrush
For the mom who loves dental hygiene, go for this gem. Made from silicone, the FOREO ISSA is probably the most advanced electric toothbrush on the market. It's got an ultra-long battery life and, let's be honest, is a far better sight to look at than the standard plastic, bristled monstrosities that currently inhabit most bathrooms. A toothbrush is a bit of an unorthodox gift, to be sure, but it'll be welcomed with open gums. (Starting at $199.)
Amazon Echo Dot
Why not introduce your mom to the world of smart home products this Mother's Day? The Echo Dot is a smaller, and pretty affordable, variant of Amazon's flagship smart home product. It's designed to interface with other smart home technology, speakers, and smartphones. It can perform a number of tasks, like keeping track of a schedule or calling an Uber. (Starting at $49.99.)
Petnet SmartFeeder
Okay, so maybe this one is also half for the dog. The Petnet SmartFeeder can interface with a smartphone and dispense a preset amount of pet food — for a dog or cat — at fixed times during the day. It's another way to make a home smarter, and to get the dog off your back when it's dinnertime. It stores 5 to 7 pounds of food, so there's enough to last a while. Kids, your mom will appreciate the peace of mind of knowing for sure that something is feeding the dog while she's at work. (Starting at $149.)
Bose SoundLink Color
If Mom's into music, this one might be the way to go. Portable, durable, and boasting eight hours of battery life, Bose SoundLink Color is probably the most well-rounded Bluetooth speaker on the market. Mom can bring it to the beach or set it out by the pool. It also comes in several different colors. (Starting at $129.)
Amazon Fire HD 8
If mom doesn't have a tablet yet, now might be the time. The Fire HD 8 is just about the cheapest tablet on the market, and it's, of course, compatible with the Echo Dot. (Starting at $64.99.)
Fitbit Charge 2
Does she work out? If so, then she deserves a Fitbit Charge 2. It monitors heart rate and calorie burn and can help optimize a workout to target maximum fat burn or cardio buildup. It will also show calls, texts, and other notifications on the display, so it's perfect for hikes and long runs, when taking out a phone would be inconvenient. (Starting at $129.88.)
HP Sprocket Portable Photo Printer
If mother dearest is a photographer — either an actual professional or an amateur, or just really into Instagram — this might be just the thing for her. It connects to any mobile device via Bluetooth and can print pictures on 2x3 photo paper. (Starting at $129.99.)
Samsung T3 Portable SSD
For the mom who needs to backup her computer, here's a great drive, another great gift for a mom who dabbles in photography or video, or the mom exceeding the standard ration of hard drive space. The Samsung T3 Portable Solid State Drive is small — really small — and can go pretty much anywhere, in a pocket, purse, or camera case. Gone are Mom's days of trying to figure out which home videos to delete because she's out of space on her phone. (Starting at $99.99.)
Bose QuietComfort 35 Wireless Headphones
Saved the best, and admittedly the priciest, for last. The Bose QC active noise-canceling headphones are the best of their kind available. They make the ideal gift for a mom who travels or commutes a lot for work and wants nothing more than to listen to her music and tune out anything and everything around her. See also: the family is being too noisy, and she's trying to take a nap. (Starting at $349.)